---
ARIZONA
---
Location: Sedona, Arizona
"This French restaurant was phenomenal with allergies! We notified them when making the reservation and reminded them when confirming the reservation and they had it in their notes. Fairly limited nuts on the menu—only macadamia on one item, almonds on a couple, and hazelnuts on a couple. My daughter isn't allergic to those nuts, but we were dining with my nephew who is anaphylactic to all nuts, so a nut allergy was placed on our whole table. The waiter checked the bread and reiterated its safety. Truly excellent!"
@lbedwell who manages tree nut allergies
---
ARKANSAS
---
Location: Bentonville, Arkansas
"Buckwheat crepes are safe! If you want a savory crepe, be sure to ask that they use buckwheat. That's the one they use for sweet crepes but it even says on the menu you can switch if you have an allergy!"
@lira9497 who manages celiac
---
CALIFORNIA
---
Location: San Francisco, California
"A beautiful French restaurant tucked into a lovely little lane right off of Union Square! I had the amazing steak frites. The waiter even asked if anyone had food allergies and pointed out safe appetizers for me! Overall had a lovely experience and can't wait to go back!"
@samsafeeats who manages tree nut, shellfish, wheat, pumpkin, vegetable, cherry, thyme, and vanilla allergies
Location: Newport Beach, California
"The menu has VERY limited nuts and uses canola oil for the French fries. Very "clean" Cali vibe menu and you sit outside by the marina. Lots for kids and adults. Their signature dish is "le bowl" and can be made with cauliflower rice (but that's not on the menu!) to swap out the brown rice. We can't wait to go back!"
@susie who manages tree nut allergies
Location: Thousand Oaks, California
"This is a gem! It's a great authentic French cafe. Limited nuts and fully able to accommodate a nut allergy. Crepes and delicious croissants and sandwiches. We love coming here and feeling like we can eat safely. The owner is always there to answer questions."
@zenwoman who manages tree nut, sesame, and fruit allergies
Location: San Francisco, California
"French bistro. I went for brunch with friends. There are nuts on menu, but not too many as far as 'trendy' breakfast spots go. Highly suggest the Eggs Benedict."
@julia12 who manages tree nut allergies
Location: San Francisco, California
"A nice French restaurant with live music. Although a small menu, the menu lists out what is gluten-free/dairy-free so you definitely have delicious choices!"
@paigeflory who manages celiac and a milk allergy
---
CONNECTICUT
---
Location: New Haven, Connecticut
"Delightful French cafe in the heart of Yale! One of my best friends knows the owner, so I was able to talk directly to her about their allergy policy. They're very comfortable handling allergies and have a dedicated prep area for both nuts and shellfish. Delicious and safe! Try the chocolate soufflé!"
@lbedwell who manages tree nut allergies
Location: Greenwich, Connecticut
"Steak frites and French fries were a great safe option! Creme caramel was even a safe dessert. Bread is not made in house so that was not an option. Overall atmosphere and food was good, too!"
@eem who manages tree nut, fish, sesame, and legume allergies
---
FLORIDA
---
Location: St. Petersburg, Florida
"I am a regular to this restaurant, and I have never had an issue with allergens. There are tree nuts on the menu, but the staff is very careful to remind the chefs and I stay away from those items. I don't typically order any dessert out, but this is one of a handful of restaurants were I feel comfortable enough to do so!"
@julianat who manages tree nut and shellfish allergies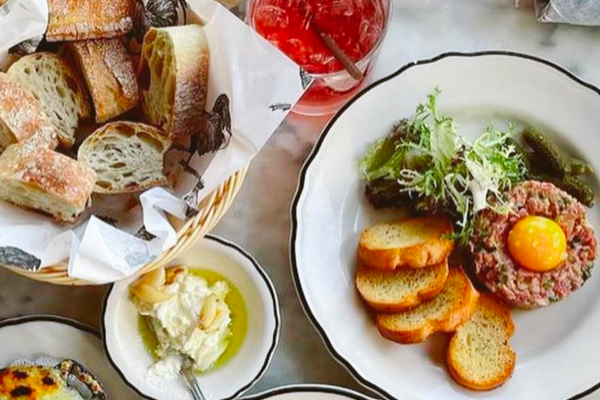 Location: Naples, Florida
"This restaurant was unbelievable with food allergies. I'm tree nut-free but have started also avoiding gluten. I informed the waitstaff of my allergies and they were on top of all of the ingredients on the menu. They assured me what I ordered was safe and I was able to even order dessert (which I never feel safe doing). The dessert menu listed which items had nuts and when I asked about gluten, the waiter was able to list the items that were made with rice flour instead. HIGHLY recommend! The food was delicious on top of it all."
@lfrost5 who manages tree nut and wheat allergies
Location: Doral, Florida
"Staff was very knowledgeable about food allergies and had a clear protocol. They were super attentive and the vegan crepe was delicious. We had the vegan batter crepe with cookie butter and safe Oreos. No milk, eggs, or peanuts!"
@eunice who manages peanut, milk, and egg allergies
---
ILLINOIS
---
Location: Chicago, Illinois
"Wonderful Mother's Day brunch! They kindly accommodated my peanut and tree nut allergy."
@isjlm who manages peanut, tree nut and leek allergies
Location: Chicago, Illinois
"Came here for Restaurant Week! The menu lists the ingredients out! A great French restaurant."
@paigeflory who manages celiac and a milk allergy
Location: Chicago, Illinois
"Beautiful hidden patio to enjoy some great French food. Menu doesn't state allergens but plenty of gluten-free/dairy-free options. Highly recommend!"
@paigeflory who manages celiac and a milk allergy
Location: "Chicago, Illinois"
"Sister restaurant of Le Bouchon—similar French bistro menu—and so good! Great, bright space. Proactive staff—asked about allergies AND cross-contamination! No seeds on the delicious bread. Highly recommend the escargot, oysters, French onion soup, and steak frites. All delicious! Super great staff!"
@sheberhard who manages tree nut and seed allergies
Location: Park Ridge, Illinois
"They were very educated about allergies and knew exactly what items on the menu were safe. When I told them that I was allergic to nuts, they changed gloves and utensils and deep cleaned the equipment. They also kept all orders with nuts away from my food and made sure there was no cross-contact. I had the Banana Berry Crepe and the strawberry smoothie and they were really delicious."
@isabel48 who manages tree nut, sesame, and chickpea allergies
Location: Chicago, Illinois
"Cozy French bistro! We've safely had salads, bread, steak frites, French onion soup, profiteroles, and creme brûlée—not all the same time! We've gone at least a dozen times!"
@susie who manages tree nut allergies
Location: Chicago, Illinois
"Food is OUTSTANDING. Gladly accommodated my allergens, and warned against certain items on the menu due to a risk of cross contaminating sesame. I ordered the steak frites and was safe, plus it was delicious! A great local place! Only issue is that there is no separate prep area for sesame, but they barely use any peanuts on the menu."
@awissink who manages peanut, squid, sesame, and fruit allergies
Location: Winnetka, Illinois
"This is our girls' favorite 'fancy' restaurant on the North Shore. Everyone on staff takes allergies very seriously. Our girls can successfully order from the kids menu (the chicken gravy contains no dairy or egg) and we get the same level of reassurance every time we dine. Note: while the baguette is dairy-free, it does have egg in the dough."
@cbuckley who manages tree nut, milk, egg, and avocado allergies
Location: Chicago, Illinois
"New restaurant alert in River North! In my experience, high-end restaurants tend to have high-end allergy policies. I'm still raving about their French banquette and French onion soup. A beautiful spot for a special event or romantic dinner!"
@alyssabauder who manages peanut allergies
---
LOUISIANA
---
Location: New Orleans, Louisiana
"For the most romantic and beautiful dinner, my go-to is Lilette. Located only about 10 minutes from campus on Magazine Street, Lilette is a crowd favorite. Serving amazing French food, I've never had a problem navigating my allergies here, despite there being nuts on the menu. My go to order is: shrimp appetizer, hearts of palm salad, and steak entree. You won't regret it. I recommend eating outside if the weather permits."
@gabbylevinson who manages tree nut and peach allergies
Location: New Orleans, Louisiana
"Thank God for Holy Crepes! This place is a great stop while you're cruising around the French Quarter. They make their gluten-free buckwheat crepes on a separate crepe pan and up front so there's no worries about cross-contamination. Every crepe flavor on the menu can be made gluten-free, both sweet and savory. My only complaint is they could be bigger but I'll just order two next time."
@andglutenfree who manages celiac and oyster allergies
Location: New Orleans, Louisiana
"So cute and scenic. Sit upstairs on the patio if you can. Located downtown in the French Quarter, it's so fun to people watch. The food rocks. I've been for brunch, lunch, and dinner and I'm never disappointed! Waitstaff have always been awesome with my allergies."
@gabbylevinson who manages tree nut and peach allergies
---
MARYLAND
---
Location: Rockville, Maryland
"The staff was very proactive indicating they use tree nuts, but no peanuts!"
@nyckgme who manages peanut allergies
---
MASSACHUSETTS
---
Location: Brookline, Massachusetts
"The Paris Crêperie makes me feel SO safe when I go there. Their menu indicates which crepes can be made gluten-free, and when I asked for the gluten-free version the employee asked if I had an allergy. They have a separate grill they use, and she warned me that it would take extra time to make since there was only one. When I got my crepe to go, there was an allergy sticker on the outside and it even had been signed by the person who made it. I felt so safe and reassured eating it. I also asked about one of the sauces to make sure it was gluten-free and the employee went to check with the kitchen for me. I got a savory crepe with turkey, Gruyère, bacon, and chipotle mayo and it was heavenly. Seriously such an amazing place, a must-try if you are in the Boston area!"
@celiactivist who manages celiac and an oat allergy
---
MICHIGAN
---
Location: Boyne City, Michigan
"Sante is a great French restaurant with a view of Lake Charlevoix. Servers are very accommodating and do what they can to make guests feel safe!"
@reganh who manages milk and egg allergies
---
NEVADA
---
Location: Las Vegas, Nevada
"The best restaurant in Vegas to eat gluten-free. Menu is labeled but they're also willing to make most items gluten-free, even if they're not labeled. Everything is made separately and they take great care to avoid cross-contamination. All items come out with allergy sticks signifying they're gluten-free. For brunch, get the French Toast and for dinner, don't miss out on the French onion soup!"
@andglutenfree who manages celiac and an oyster allergy
---
NEW YORK
---
Location: New York, New York
"Your go-to for French gluten-free food. They serve breakfast and lunch, as well as some fantastic pastries. The staff is so nice, definitely will be coming back!"
@edenc4 who manages soy, carrot, and fruit allergies
Location: New York, New York
"I ate here when I went on a trip to NYC. The place was so clean and the staff was amazing. l loved it. The best part was, of course, the food. The croissant tasted like heaven and the fine dining that I experienced was everything. I got an omelet and it was so fluffy and had a little bit of everything in the seasoning department. Definitely recommend."
@dakotasims who manages peanut and lentil allergies
Location: New York, New York
"One of my favorite NYC spots! Great food, great vibe! Amazing with allergies. Burger buns have sesame, sadly, but lots of other safe foods (I usually share steak frites, shrimp cocktail, and mac and cheese). Always feel super safe eating here, even though they use sesame burger buns! I went back and they gave me the burger on a ciabatta bun without seeds. They also make all their desserts in house and told me they don't use nuts for their dessert! I was able to enjoy a vanilla ice cream puff with chocolate sauce."
@izzytri12 who manages tree nut, salmon, and sesame allergies
Location: New York, New York
"You find the coolest places to eat in the city. If you are in the Chelsea Market, it's worth trying Bar Suzette, a stand in the market dedicated to sweet and savory crepes. I had no issues with my allergies but I also came with my friend who is allergic to nuts. While they have nuts on the menu, they were very clear on their protocol to avoid cross-contamination. All nuts are out in in a separate area. She safely ate a crepe. There used to be gluten-free options but I think they took them away; it's worth asking about if you go."
@edenc4 who manages soy, carrot, and fruit allergies
Location: Brooklyn, New York
"So cute and so delicious. 100% vegan. GET THE CROISSANT. One of the best croissants I've ever had (even vs. a non vegan one). I believe they might have another location now. I haven't visited it yet but if it's as good as the first, highly recommend you check out both."
@edenc4 who manages soy, carrot, and fruit allergies
---
NORTH CAROLINA
---
Location: Charlotte, North Carolina
"I have been going to Amélìe's for years now. They have a lot of gluten-free options as far as macarons! They also have a few other gluten-free desserts on the menu."
@skyhawk718 who manages celiac
---
PENNSYLVANIA
---
Location: Philadelphia, Pennsylvania
"Ordered takeout from Parc during a trip to Philly. Called and had a good conversation with the staff who were knowledgeable and courteous about allergies, and addressed ingredients including oils, as well as cross-contamination. I'm a breakfast for dinner fan and also love a good classic French omelette, so had an omelette with white cheddar which included fresh herbs. My family also enjoyed their dishes including steak frites and shrimp cocktail."
@ehrspokin who manages tree nut, legume, and kiwi allergies
---
TENNESSEE
---
Location: Nashvillle, Tennessee
"This has some of the best French food in the city, and there is a good number of things that can be made gluten-free, and there are very few nuts that exist on the menu (pecans and almonds only). The escargot and steak are musts! The fish is also fantastic, and the crème brûlée is great and gluten-free! I would check on if they use separate fryers for the fries, but I believe they are the only thing they fry. You have to check this place out!"
@jtchambers22 who manages celiac and tree nut and legume allergies
---
TEXAS
---
Location: Richardson, Texas
"I got the Croqué Monsieur and it was delicious! It is a classic French ham and cheese sandwich baked on country bread. They have a lot of menu options as well. Definitely recommend!"
@itsjennifer_12 who manages shellfish allergies
---
VIRGINIA
---
Location: Williamsburg, Virginia
"I told the staff of my son's allergy when I booked. They flagged the table and alerted the server. He picked a simple dish of pasta but was able to enjoy the lemon sorbet, too (it was Haagen Daas). The meal was great and I believe he could have had more choices had he wanted them that evening (e.g. steak)."
@ashleymcgrail who manages tree nut and sesame allergies
---
WASHINGTON
---
Location: Seattle, Washington
"Had a great brunch here. Researched this menu prior to dining and they are extremely light on nuts—almonds on one croissant, hazelnuts on one salad, and pine nuts on another salad. Waitstaff was very good with allergies. My daughter isn't allergic to any of the nuts mentioned, but they pointed out that their deep fryer uses peanut oil (also not an issue for us because proteins processed out), but I like it when waitstaff thinks about all potential risks. Lovely French food!"
@lbedwell who manages tree nut allergies
---
WASHINGTON, D.C.
---
Location: Washington, D.C.
"Enjoyed a fantastic meal with the family. Busy French brasserie that handles allergens on site but very educated staff ensured we had a safe meal, despite it being a busy weekend service. Food was delightful and we had many great options or the meal was adjusted to accommodate our long list of allergens. Manager checked in to ensure that we had a good meal. Such a treat to be traveling and have such a wonderful option to dine out. Highly recommended and we'll be returning."
@dslily who manages tree nut, milk, egg, shrimp, seed, and lentil allergies
Location: Washington, D.C.
"My daughter ate here and ordered French toast with strawberry and whipped cream, which she said was pretty good—she felt they were respectful of her allergies and she felt she was safe."