DAY 1
---
We just ordered the iced vanilla latte. I've never had a reaction to any of their drinks.
I did like this restaurant, and the staff ensured that we were safe from our allergens. I ordered the steak, which was safe, but I just didn't like it as much. If you have mature taste, then I would definitely recommend this place. The ambiance was great and the waiter understood our allergies.
Sightseeing:
We visited Vendôme!
---
DAY 2
---
I went to this breakfast/lunch place exactly three times in a span of a week. I ordered the avocado and toast and they made it delicious every time.
This was a very nice place. We had dinner there and sat outside. They were courteous with our food allergies, we ordered our pastas and they were delicious! I highly recommend this place. The staff were so sweet.
Sightseeing: Louvre Museum
We visited the Louvre!
---
DAY 3
---
Although the barrier of languages can create conflict, they understood the allergy and made sure there were no nuts in the food! I do recommend this place, as it is also close to other shops and restaurants nearby!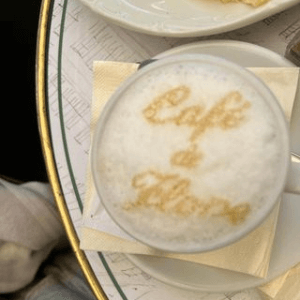 We went back to Café de Flore for lunch!
At Gambino, they ensured that there were no nuts in any of the Italian food. We asked them and they specifically and clearly stated that we were safe. I ordered the pasta, and it was very good! I highly recommend this place.
Sightseeing:
We shopped and walked around Paris!
---
DAY 4
---
I stuck with the same breakfast I had ordered already, because it was delicious and safe!
This cooking class was for one day only and we absolutely loved the food and the chef instructor. He was very safe with our allergens. I highly recommend this place, as you are learning how to cook French food while knowing which ingredients are being put in the food that you will eat. It was so much fun to learn. We started with going out and getting the groceries, and then making a full course meal. Again, if you visit Paris, you should definitely sign up for this class!
Sightseeing:
We visited Monet's Gardens.
---
DAY 5
---
The waiter was very kind. It was only the kids going out this time at dinner by ourselves, so we had to be extra careful. He made sure nothing had nuts in it. We informed him and he delivered our safe food with a smile. I definitely recommend this place!