EAT
---
Bill's
Bill's takes food allergies as seriously as their brunch and burgers. They provide a detailed allergen chart for their menu that labels each dish with any of the top 15 allergens that might be included. With locations all over London, Bill's is a great spot for food allergy families to grab a bite any time of the day.
Locations: Covent Garden, Greenwich, Kingston, Soho, and 17 others
Details: bills-website.co.uk
---
Franco Manca
Franco Manca gets food allergies. Their famous sourdough pizza can be easily modified for milk allergies, and their menu comes with a clear allergen key to help guests make informed choices. While they don't currently have a gluten-free crust, they are busy working on a recipe — stay tuned!
Locations: Islington, Wimbledon, Chiswick, and 30 others
Details: francomanca.co.uk
---
Hemsley + Hemsley Cafe
If you need a break from the fish and chips, Hemsley + Hemsley is a healthy, flavor-packed option. The Hemsley sisters opened their London cafe after writing several bestselling cookbooks that focused on the importance of gut health and allergen-free swaps. They offer breakfast, afternoon tea, and light meals that are free from gluten, grain, refined sugar, and hydrogenized oils. Nuts and dairy are limited and clearly marked on the menu.
Location: Oxford Street
Details: hemsleyandhemsley.com
---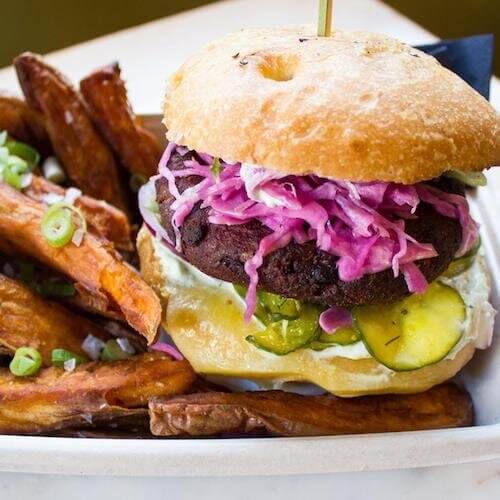 Mildreds
If you're looking for one of the best milk and egg free meals in London, head over to Mildreds. This vegetarian and vegan restaurant has limited nuts, gluten free options, and eclectic mod decor that is Instagram-worthy and kid-approved.
Locations: Camden, Soho, Kings Cross, Dalston
Details: www.mildreds.co.uk
---
Oliver's Fish and Chips
You can't get any more British than a plate of fish and chips. Known for their "Gluten-Free Wednesdays" and being great with food allergies, you won't want to miss Oliver's Fish & Chips. Their fish, chips, and anything fried is cooked in rapeseed oil (vegetable oil), and they use dedicated fryers on Wednesdays when the restaurant goes gluten free.
Location: Chalk Farm
Details: oliversfishandchips.com
---
The Punchbowl
One of Mayfair's oldest pubs, the Punchbowl captures the history and heart of London. Their pub and dining room is ideal for food allergy families with a full kids' menu and allergen information readily available upon request.
Location: Mayfair
Details: punchbowllondon.com
---
Rivington Greenwich
For a decadent family dinner or drinks in their magical gin garden, Rivington Greenwich does everything they can to make customers with food allergies feel like royalty. They were named by Go London as one of the best places for people with food allergies or gluten intolerances and are known for customizing dishes to keep guests safe. Their seasonal menu changes daily, but kids have a set menu and can eat free Monday through Friday.
Location: Greenwich
Details: rivingtongreenwich.co.uk
---
Stingray Cafe
Gluten-free, egg-free, dairy-free — Stingray wants everyone to enjoy their authentic Italian pizza and pasta. This cozy restaurant nestled in Tufnell Park is happy to accommodate food allergies and offers a clearly marked menu with tons of gluten-free options.
Location: Tufnell Park
Details: stingraycafe.co.uk
---
Wagamama
Inspired by Japenese ramen bars, Wagamama serves up food allergy-friendly Asian fusion dishes all over London. Their mission is to ensure that every customer with food allergies can enjoy their rice bowls, gyoza, and more. They offer an incredibly detailed allergen guide and are more than willing to modify dishes to accommodate allergies or specialized diets.
Locations: Camden, Canary Wharf, Carnaby Street, and 30+ others
Details: wagamama.com
---
The Wolseley
For brunch, lunch, or afternoon tea, the Wolseley is an unforgettably picturesque experience. Their incredible service extends to their allergy-friendly attitude with gluten-free options and their ability to modify menu items to accommodate for food allergies.
Location: Mayfair
Details: thewolseley.com
---
Featured User!
Follow @kejone in the Spokin app for her top recommendations in London!
TREAT
---
The Free From Bakehouse
There's enough to love in the name alone. The Free From Bakehouse is dedicated to allergy-friendly bakes with their completely gluten-free kitchen and options that are dairy, milk, and nut-free. Warning: the gluten-free cinnamon roll might actually change your life.
Location: Borough Market and several shops around the city
Details: sugargrain.com
---
Fabrique Bakery
Simple, Swedish, and sweet — Fabrique Bakery is committed to using fresh ingredients and traditional methods for their baked goods. The staff is able to make gluten-free accommodations and is very mindful of nut cross-contamination in their kitchen.
Locations: Shoreditch, Covent Garden, Notting Hill, Fitzrovia
Details: fabrique.co.uk
---
Rubys of London
This award-winning artisan patisserie is egg-free, dairy-free and impossibly adorable. Rubys also specializes in decadent treats that free of gluten and refined sugars, sold both online and from their stall at the Greenwich Market.
Location: Greenwich
Details: rubysoflondon.com
---
Yorica!
So much yum! Yorica! has become a famous safe haven for ice cream lovers with food allergies in London. Every ice cream, shake, and fro-yo recipe at Yorica! is dairy, egg, nut, and gluten free. And we get it, sometimes having ice cream twice in one day is necessary.
Location: Soho
Details: yorica.com
STAY
---
The Rosewood Hotel London
Located in the West End Theatre District, The Rosewood Hotel London is equipped with trained staff who, even in the latest of hours, delivers your allergen-free room service with the utmost care.
Location: Covent Garden
Details: rosewoodhotels.com/en/london
---
The Berkeley
Just a hop, skip, and a jump away from Hyde Park, The Berkeley provides excellent service to guests with food allergies and easy access to London's most popular attractions.
Location: Knightsbridge
Details: the-berkeley.co.uk
---
The Savoy
Located just a few blocks away from the River Thames, The Savoy provides families with a luxurious, allergy-friendly experience, fit for the Royal Family! All four of their restaurants are prepared to accommodate food allergies.
Location: Covent Garden
Details: fairmont.com/savoy-london
---
Intercontinental London Park Lane
The Intercontinental London Park Lane is prepared to accommodate food allergies. Their superb staff will even prepare you extra food in the evening so you have safe options after a long day of sight-seeing.
Location: Mayfair
Details: ihg.com/intercontinental/hotels/gb/en/london
PLAY
---
Bursting with history, art, and culture — every day is an adventure and another photo opp in London. So grab your wellies and take a walk along the Thames or catch a play in the West End, just be sure to save room for tea.
---
---