DAY 1
---
This place has multiple locations and definitely is consistently a win! The wine selection is lovely and the food is delish! Gluten-free spaghetti had my heart. Beautiful views of the LV also!
---
DAY 2
---
Coffee: Starbucks
Starbucks is a good coffee staple! My order is pretty simple but super yummy and I highly recommend it: iced blonde roast with sugar-free vanilla syrup! A nice way to start the day with a pep!
Drinks: The Chandelier
This place has very yummy cocktails and an awesome vibe! This is also inside the Cosmopolitan! I love the verbena, which is a lemon cocktail served with a Szechuan button which makes your tongue numb! Very creative and delish.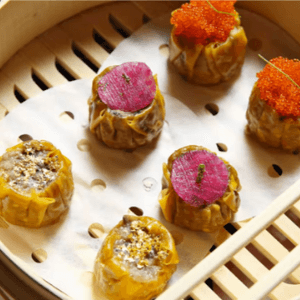 Jose Andres! 11/10! The allergy menu here is marked with every major allergen and the staff is knowledgeable! I had fried rice made with gluten-free soy sauce and delicious cocktails! Love having variety too! His other restaurants are amazing, too! Team Jose Andres!
---
DAY 3
---
3-Day Hiking Trip at Joshua Tree National Park with Wildland Trekking
I cannot say better things about this outdoor adventure company! They create incredible, outdoor experiences that include hiking, camping, and backpacking. All meals are included in the trips, which of course was a concern going in. We have been on two trips with Wildland now and Carmelina has been our fearless, informative, and overall awesome guide for both trips. (Yosemite and Joshua Tree). The guide wears so many hats and transitions seamlessly from guide to driver to chef to medic and all things in between! They have top notch gear but I would be remiss if I did not mention the PANCAKES 'chef' Carmelina made for us at the campsite! I swear the pancakes on this trip are the best I've ever eaten. (Shoutout to Bob's Red Mill flour, Oatly oat milk, and Enjoy Life chocolate chips). Overall, I would say this is the perfect way to take an adventure trip and go "off the grid" safely and in good hands.
---
DAY 4
---
This is a very nice and funky hotel/casino on the Vegas strip! Rooms are clean with good bath products. They also have so many restaurants on property! The allergy protocol is overall very good and the staff is well informed! It is not inexpensive, but in my opinion it is worth it!
This is a sushi hand roll place in the Cosmopolitan in Vegas! You sit at bar stools and watch the times being made! They have tamari and are very informed about allergies! They also do sushi takeout so if you need safe food to go, this is a good option! Warm rice, crunchy seaweed, and fresh fish—NOM!