---
CALIFORNIA
---
Location: Walnut Creek, California
"They only had 2 dishes that had nuts/sesame here. 1 was the kale salad. The other was the special mango white chocolate empanadas. For the dessert, pistachios were sprinkled on top. Otherwise it may have been ok. We came as a large group and ordered so many tapas! And shared entrees. The kids also had a kids menu. But my kids had the adult menu. Lol. Super yummy and felt safe. Even though there were 2 items with the allergens on the menu, the server still made it a point to double check with the kitchen."
@jrbruin who manages peanut, tree nut, sesame, and agave allergies
---
FLORIDA
---
Location: Key West, Florida
"I had been here before my allergy and saw how diligent they were with my friend's gluten intolerance (even have a separate menu) so when I came back to Key West with my shellfish allergy, I called to see if they would be able to accommodate. They quickly and confidently said that would be no problem! When I was there, my server also exuded confidence when I told him about my allergy and let me know that everything besides the shellfish dishes I could have. I'm so excited this restaurant is able to accommodate allergies so well because the food is fantastic! It's tapas style, so you can try a lot of different menu items. Two of my favorites are the prosciutto wrapped dates and the short rib (though if you can't have gluten, unfortunately, you can't have the short rib). If you're ever in Key West, definitely check Santiago's out!"
@ksalina who manages shellfish allergies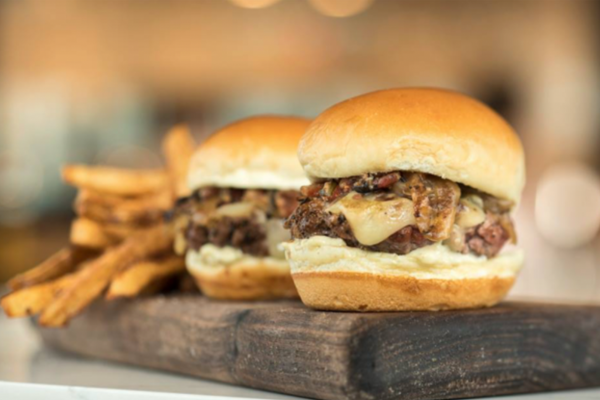 Location: Orlando, Florida
"Chroma is a tapas restaurant in Orlando, only about 20 minutes from Disney World. I had an amazing experience here. The manager came out to speak with me, as per protocol (I did not need to request for him to) and safely, confidently made me everything—even dessert! He even checked one of the dessert ingredients with me to be extra safe. I found everyone from the waitresses to the manager to be extremely knowledgeable about cross-contamination. I can't wait to return here next time we're in Orlando."
@samisophia13 who manages tree nut allergies
Location: Surfside, Florida
"Amazing experience! Our waiter, Melfin, was the best! Extremely knowledgeable and accommodating to our needs. There is no shellfish in house. My daughter loves sushi but is allergic to sesame seeds. They prepped her sushi separately. Some of our entrees were topped with sesame seeds and/or nuts, he made sure to tell the chef not to add them just in case our kids wanted to taste our food. The food was delicious. The desserts were even better! All nut-free!"
@gmca who manages peanut, tree nut, shellfish, and sesame allergies
Location: St. Petersburg, Florida
"Everything here is yummy! Fancier place to eat in St. Pete. Highly recommend the charcuterie board, potatoes, and deviled eggs for gluten-friendly meals."
@rachcutiepie who manages celiac
---
ILLINOIS
---
Location: Chicago, Illinois
"The staff was excellent with my peanut and tree nut allergies. They told me they could omit nuts on each item besides the halibut (coated in almond butter). It is a tapas place. Each item that was brought to the table, all staff assured me there was no nuts. Another guest at my table ordered halibut and they reminded me it wasn't safe for me. Everyone who served us food, from the waitress to bus boy, was helpful with my food allergy. We had a very positive experience."
@leslieevans who manages a peanut allergy
Location: Chicago, Illinois
"Highly recommend this place! Super fun atmosphere and great tapas and sangria. I was with work colleagues and we ordered plates for the whole table to share. I told the waiter about my allergy and he said everything was fine except for one salad that was ordered. I told him that's okay, I wouldn't eat it, but he had it come out with the nuts on the side which was so thoughtful. Overall, great!"
@gracekennard who manages peanut, tree nut, and poppy allergies
Location: Chicago, Illinois
"This is a cute neighborhood tapas bar and we loved it. The menu identified all nut items and we felt super safe. Loved the steak kabobs and garlic chicken."
@sheberhard who manages peanut, tree nut, and seed allergies
---
LOUISIANA
---
Location: New Orleans, Louisiana
"Super cute! Food is awesome. It's a tiny restaurant and, like most places in NOLA, I like sitting outside. The waitstaff have been great with allergies from my experiences. Super fun place to go with friends."
@gabbylevinson who manages peanut, tree nut, and peach allergies
---
MASSACHUSETTS
---
Location: Boston, Massachusetts
"Barcelona Wine Bar is the best spot for a nice dinner in the city, and the staff is so so helpful. When I told my server I had a gluten allergy, she marked up my whole menu with everything I could eat, which was so much! The have Spanish style tapas, so I recommend getting a bunch of plates to share. My favorites were the patatas bravas, the bacon wrapped dates, and the fig dish! The flourless chocolate cake is also delicious! This is my favorite place to go when I am celebrating or want a nice dinner."
@celiactivist who manages celiac and an oat allergy
---
NEW JERSEY
---
Location: Ridgewood, New Jersey
"Delicious gluten-free tapas restaurant with tons of options clearly labeled on the menu. I usually get the grilled shrimp and paella, and just tried their BBQ pulled pork arepa, which was so good! I always have a great experience eating here."
@getmovingluten who manages celiac and a milk allergy
---
NEW YORK
---
Location: New York, New York
"I loved this restaurant before I got my allergy. It's tapas style (Korean with a Spanish influence) so if you are like me and are bad with making decisions because everything looks good, this is perfect. Additionally, the staff is really knowledgeable about the menu and the kitchen processes. Our server knew exactly what I could or couldn't have. I'm no longer able to have anything fried because of cross contamination but I still was able to have a great and safe meal! So happy to be able to still eat here. Plus, they have super fun drinks in Capri Sun type pouches! Definitely recommend eating here (but fyi, they do not take reservations and can get busy on the weekends, but there are plenty of bars to grab a drink while you wait in the area!"
@ksalina who manages shellfish allergies
Location: New York, New York
"A trendy, upscale little fondue/tapas spot with no dairy?! I promise it's true. This vegan spot is certainly not cheap but it's WORTH IT. They serve tapas style dishes and fondue (both a dinner and dessert version). Located in the East Village and has a late night menu with discounted tapas and wine. This is my go-to for special occasions and whenever I'm feeling fancy."
@dairyfreeeats who manages a milk allergy
Location: New York, New York
"Had meatballs, hummus, tostini bread, fries, few other things—best gluten-free tapas meal I had created for myself off their gluten-free menu options. Staff was so proactive and very educated so patient as well will definitely be back and highly recommend!"
@awalk who manages celiac and a wheat allergy
---
OHIO
---
Location: Cleveland, Ohio
"This Indian fusion tapas restaurant is very upscale and delicious. The menu is very clearly labeled for vegan, vegetarian, gluten, and dairy, and the staff will customize dishes."
@bellavoix67 who manages milk and garlic allergies
---
SOUTH CAROLINA
---
Location: Charleston, South Carolina
"Delicious tapas in Charleston! Lots of gluten-free options clearly marked. I had many of the tapas and they all exceeded expectations. LOVE the paella!"
@gflongisland who manages celiac
---
TEXAS
---
Location: Austin, Texas
"They were very good at handling allergies and will mark a menu up ahead of time with your allergies if you call ahead. Since I'm somewhat of a picky eater, I left a little bit hungry, but it was very delicious and I'd definitely recommend!"
@tpgordon who manages peanut, tree nut, and milk allergies
Location: College Station, Texas
"They have some gluten-free tapas and amazing cocktails. Super cool atmosphere too. Love their cheese/meat board."
@jpeytonn who manages celiac
---
UTAH
---
Location: Park City, Utah
"Waitress was very helpful in letting me know what items were safe. I had minimal options, but had a safe meal. We got the Brussels sprouts and mixed grill platter."
@tpgordon who manages peanut, tree nut, and milk allergies
---
WASHINGTON, D.C.
---
Location: Washington, D.C.
"Messaged them on social media and they connected with the chef who was on top of it saying there are not peanuts/peanut oil on site. They mentioned that they do have walnuts/almonds that may have cross-contact with peanuts at processing facilities, but that's it. Very aware and knowledgeable! When we arrived they asked if anyone had allergies and talked directly to me to make sure nothing they brought contained my allergens (nuts/other legumes). Food was amazing and can't wait to go back! Have been back multiple times with the same great experience. Safely had the churros too (no chocolate and typically never am able to have dessert."
@sabudama who manages peanut, tree nut, and legume allergies
Location: Washington, D.C.
"Such a great tapas place! No peanuts on the menu and they have a great allergy menu to help plan your meal. Told them about my allergies when ordering and they went back multiple times to ask about allergens in different dishes. Would definitely go back, the food was incredible!"
@sabudama who manages peanut, tree nuts, and legume allergies
---
IRELAND
---
Location: Dublin, Ireland
"Great gluten-free Spanish tapas! The staff was not super attentive, but so many naturally gluten-free options!"
@jessiegraber who manages celiac
---
SOUTH AFRICA
---
Location: Cape Town, South Africa
"Wonderful, intimate restaurant at the top of an old biscuit mill. Our waitress was so helpful and wrote down a whole new menu of dishes that can be gluten-free. They're served tapas style for sharing. The entire meal was wonderful from start to finish!"
@passthetreats who manages a wheat allergy
---
SPAIN
---
Location: Barcelona, Spain
"Small, overwhelming place so was nervous at first. However, the owner (Lori) introduces herself personally to every table. She knew exactly what was in every tapa (even unexpected hazelnuts in pasta) and when the waiters brought out the different tapas, they were able to show me which I could eat and could not eat."
@izzytri12 who manages tree nut, salmon, and sesame allergies
Location: Barcelona, Spain
"Talk to staff about allergies and they will point you to the best menu options!"
@scm who manages peanut, tree nut, and seed allergies
Location: Barcelona, Spain
"By far the best menu system for identifying which dishes contain allergens that I have ever seen. You can select what you're allergic to and either sort by what you CAN eat, or simply leave it as is and see which dishes contain allergens (and even whether you can order it without them). I wish every restaurant on Earth used this system."
@dpappalardo357 who manages peanut and tree nut allergies
Location: Barcelona, Spain
"Alert staff, beautiful venue."
@dsp500 who manages egg and chicken allergies
Location: Madrid, Spain
"Staff were very knowledgable about allergens. Some of the tapas dishes contain traces of nuts, but we had charcuterie and bread and it was all suitable and fantastic. Went back for seconds!"
@nickappleyard who manages peanut and tree nut allergies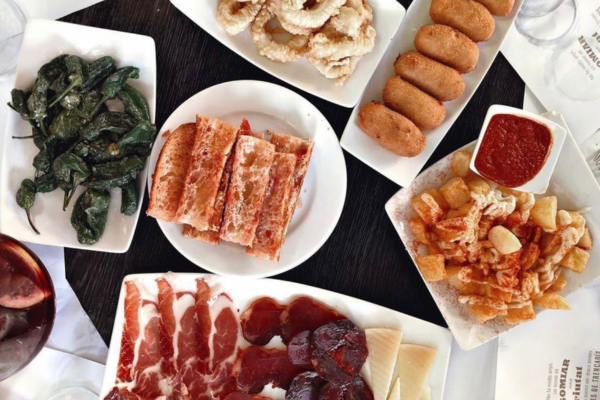 Location: Barcelona, Spain
"I went here twice on my trip in Barcelona, as it had amazing tapas and was also very good with my nut allergy. The waitstaff was able to tell me after I gave them a card with the nuts I was allergic to which tapas I was interested in contained nuts. They even customized one to come without sauce so I could still enjoy it!"
@ginag who manages tree nut allergies
Location: Barcelona, Spain
"Told the waiter I had a peanut allergy and he said I would be fine with all of the tapas that we ordered. Great food and very helpful waiters!"
@elliegust who manages a peanut allergy
Location: Barcelona, Spain
"Great tapas and a menu which uses the standard Spanish allergen labeling protocols. Hardly any nuts on the menu limit cross contamination potential. Thanks, Obama!"
@wgrusk who manages peanut and tree nut allergies
Location: València, Spain
"Excellent local tapas, no tree nuts or peanuts present on menu."
@alexmccarthy who manages peanut, tree nut, and legume allergies
---
UNITED KINGDOM
---
Location: Warrington, United Kingdom
"We came here for tapas – staff talked us through the allergens in each dish, and made suggestions when options weren't suitable. Amazing Spanish food and great atmosphere."
@nickappleyard who manages peanut and tree nut allergies