DAY 1
---
I stayed at West Bay Club with my family on our 5 day vacation to Turks and Caicos. Everyone who works there is super welcoming and they were great when dealing with my food allergies. I had the July 4th dinner special at the hotel! They were accommodating about my allergies and made sure my dishes were nut and sesame-free. They serve complimentary breakfast: a standard buffet with eggs, meat, and fruits. I also had some delicious desserts!
When my family and I arrived at the hotel, we were greeted with welcome drinks. I got a tasty fruit punch drink made of orange juice and pineapple juice.
The hotel had a July 4th special, so I got a hot dog with crispy bacon jack cheese lemon fries! I told them all of my allergies and they made sure everything was safe to eat. It was delicious and I felt comfortable and safe eating there.
---
DAY 2
---
The hotel served complimentary breakfast every morning, so I had a plate of eggs, potatoes, sausage, pancakes, watermelon, cantaloupe, and grapes.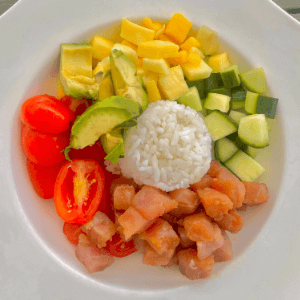 For lunch I had the ahi tuna (cucumber, tuna, mango, rice, avocado, tomatoes). They made sure to accommodate my allergy and make the dish without any sesame.
For dinner, my family and I went to Sharkbite! This restaurant has a wide variety of fish options. I got jerk chicken wings with a garden salad and a virgin strawberry daiquiri. They were pretty good about food allergies, and overall I had a good dining experience here!
I got a cup of vanilla cream frozen yogurt, which is super refreshing on a hot day in Turks and Caicos! They made sure there wasn't any cross contamination with other flavors. I also liked the Lime and Forest Berries flavors.
---
DAY 3
---
My family and I stopped by to pick up some groceries for lunches and snacks during the vacation, and they had everything we needed! It's pretty much just a typical grocery store and has any food you might need during your stay at Turks and Caicos.
My family and I ate here for dinner and I ordered the vegetable pasta. Our waitress was super friendly and accommodating of allergies, and overall it was a safe and yummy dining experience! The food was delicious and super filling.
I had some refreshing strawberry ice cream on the beach at the hotel. It was especially tasty given how hot it was that day!
---
DAY 4
---
For breakfast, I had the complimentary breakfast at the hotel again. I got bacon, eggs, and some fruit.
My family and I liked Turkberry so much that we went back for a little snack in the middle of the day! I got the vanilla cream.
Every Thursday, Mr. Grouper's has an event called the Fish Fry where they serve food, along with a DJ and a dance party! I got the chicken sandwich and they made sure it didn't have any of my allergies. Overall, it was a great dining experience and a super fun evening.
---
Day 5
---
We flew out of the PLS airport on our way back from Turks and Caicos to the United States. Before our flight, we were sitting in an area that had a few places to get food, including a Turkberry stand, Nell's Gift Shop (which had some snacks for the flight), and other food places that offered chicken tenders, pizza, and sandwiches.