DAY 1
---
Delta is really the only airline I trust as someone with peanut allergy. There is an option to mark your ticket ahead of time and they won't serve peanuts during your flight (but I haven't heard of them serving them at all in the past few years). They will also allow you to pre-board. It's hit or miss whether they ask you if you need an announcement/buffer zone. For long flights, they also have several dietary restrictions you can choose from when selecting a meal (vegetarian, vegan, etc), but I choose not to eat the meals just in case and bought safe snacks once in the terminal.
Temple of Seitan is so good we went here twice while in London. They're 100% vegan and I ordered from a kiosk. All menu items had major allergens labeled. There was a section to add allergies to your order and an employee told us that all surfaces areas would be cleaned before making any orders with allergies. No peanuts are present, but the tree nuts that they used in some of the dishes had possible cross contamination with peanuts so we avoided those dishes.
Sightseeing/Venue: The O2
The O2 arena has a nice setup because it has restaurants and retail stores outside of the gate but inside the actual arena, the concession selection is mostly bars that only serve drinks. I think there are some booths that sell food as well, but it was a minimal amount.
---
DAY 2
---
No peanuts are on the menu but there are tree nuts. They asked whether surfaces needed to be cleaned before preparing my food. (I did decline since I am only allergic to peanuts.) There were plenty of vegan options.
We sat in the premium section that had pre-made food plates, but there was an allergen menu for each item and they were able to make me a separate vegan meal. None of the options had peanuts. Looking at the website, there seemed to be many concession stands available for the other sections as well. All of them seemed to have at least one vegan option.
Itadeki Zen is 100% vegan. There are no peanuts on the menu and the employee was confident in that when I asked!
---
DAY 3
---
I messaged them ahead of time and was told there are no peanuts in the bakery, however there are multiple tree nuts. The entire bakery is 100% plant based/vegan. Major allergens for each item were also listed on their website.
This is a vegan restaurant that specializes in cashew-based cheese. Their menu is labeled for gluten and tree nut containing items. They had a symbol for peanuts as well, but none of the menu items actually contained peanuts. They did state they would have a harder time accommodating a tree nut allergy since most of the dishes are made with their cashew cheese.
Meatless District is 100% vegan and there are no peanuts on the menu. There were quite a few tree nuts, however.
---
DAY 4
---
I messaged the restaurant ahead of time and they stated they don't ever use peanuts in the kitchen. We verified again once we got there and the staff spoke English well. There are also vegan options available. They did have a few tree nuts in some of the dishes.
Végét'Halles is a vegetarian/vegan restaurant with menus in French and English. The first page of the menu had an allergen legend and each dish was labeled with the allergens it contained. There were no dishes with peanuts (groundnuts) on the menu.
We went to the location at 21 Rue Bonaparte. The staff was educated, spoke English, and was able to tell us that there are no peanuts in the bakery and what tree nuts were in the bakery (which were also labeled on each item in the case). There was even a vegan macaron!
---
DAY 5
---
I messaged the restaurant ahead of time and was told they don't use peanut oil. They use sunflower oil, grapeseed oil, and olive oil. The staff spoke English and was able to tell us what allergens were in each dish. No peanuts!
This is a vegan and gluten-free restaurant! I messaged ahead of time and was told there are no peanuts in the restaurant. On our reservation, we were able to mark that we had allergies and they remembered when we got to the restaurant. While there are no peanuts in anything, cashews and almond were in some of the dishes.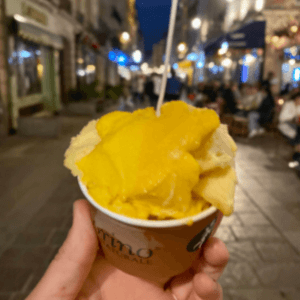 Each flavor had a label with allergens. No peanuts (the nuts on the dipped cones were hazelnuts). They had vegan sorbet as well. I did not ask for a new scoop/bin since I am only allergic to peanuts, but they seemed very allergy-aware.