Lia Wisniewski – Spokin App User @liarw
Allergies: Peanut, Tree Nuts
Class: 2024
Major: Biomedical Sciences
Post Graduation Plans: Attend Physician Assistant school
Instagram: @liavaeats
Lia's Auburn Campus Guide
Big Blue Bagel is a staple for breakfast around Auburn! You will find there is usually line of people on the weekends waiting to satisfy their bagel craving. There are a variety of bagel and cream cheeses to choose from. They also do omelets if that's more your style. My order is either a sausage, egg, and cheese on a plain bagel or the War Eagle omelet with a side of fruit!
If you need a coffee in the morning like I do then Rosshouse would be the place to go! It is small, quiet place to relax or study. My order is usually a cold brew with oat milk and sugar free vanilla syrup!
If you are looking for a nice sit-down lunch to go to with friends or family then Hamilton's is the way to go! It is a classic American restaurant with variety of salads, sandwiches, and other entrees. I got their filet mignon. It it was amazing!
Taco Mama is a must when visiting Auburn! There are endless combinations of meals to order on their menu! You can build your own burrito bowl, tacos, quesadilla, nachos, or burrito! I love how you can add any of their toppings for free! I either get a chicken quesadilla or a burrito bowl! Their service is super quick too!
The Hound has one of the most unique menus around Auburn! It puts a modern twist on classic southern dishes! The service is amazing and allergies have never been an issue! My go to order is the BYO BURGER with their hand cut fries! I am not gluten free but they offer a gluten free bun and side options! Also, I highly recommend brunch here as well! It was to die for and their pancakes, breakfast potatoes, and omelets were all peanut/tree-nut free!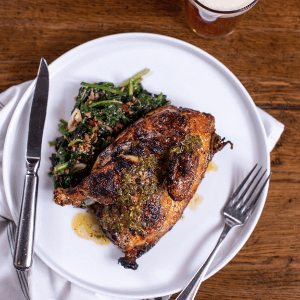 Ariccia Cucina Italiana is found inside the Auburn Hotel and it is a hidden gem!! There is never a trip to Auburn where we don't eat here! They make all of their bread and pasta fresh in house! My personal favorites are the Margherita pizza and the rigatoni bolognese! I always mention my allergy to our server and they will notify the kitchen!