DAY 1
---
This cafe had gluten-free bread but their portions were inconsistent with the non gluten-free menu items. The staff was a bit rude and the food was bland.
Gluten-free bread and many gluten-free menu items available, including a delicious brownie! The staff was knowledgeable and the decor was amazing. We ordered the salmon, the risotto, and a gluten-free brownie!
The Garden, the lobby restaurant, had breakfast and a happy hour every day! The happy hour staff was so kind and gave generous pours!
---
DAY 2
---
They have gluten-free bread and can make any of their dishes gluten-free. They will also make separate eggs from the buffet to ensure there is no cross contamination.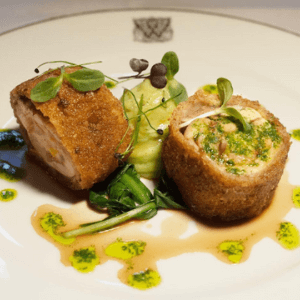 This restaurant is beautiful and, while there are some gluten-free options, there aren't many. I didn't love my food and it was very pricey. They do offer gluten-free bread and are knowledgeable about allergies, but I did not find this restaurant to be worth the money.
Loved this restaurant! Gluten-free pizza and pasta—they do note that there is potential for cross contamination, so keep that in mind while ordering. They also offer gluten-free Peroni. We loved our waiter and thoroughly enjoyed the food!
They have many ciders and wines available for those with a gluten allergy! A great atmosphere and amazing decor.
Sightseeing:
We visited Edinburgh Castle, walked around Edinburgh, and did The Scotch Whiskey Experience!
---
DAY 3
---
They had gluten-free cereal and lots of fruits, meats and cheeses!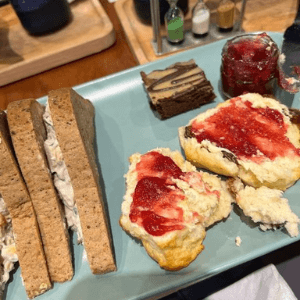 Loved this place! They offer high tea and have gluten-free bread, scones, and baked goods. The sandwich was delicious, the scone with clotted cream and jam was out of this world (yet a bit crumbly), and the brownie was amazing. Highly recommend this restaurant.
I was glutened here. Their allergen menu is very confusing and is marked with what is gluten-free and dairy-free, but clearly there was some miscommunication. I ordered the sea bass and the "gluten-free" dessert that I believe had gluten in it. Our waiter was hard to get a hold of and not very helpful in answering questions about my allergy.
Sightseeing:
We went to Hiking Arthur's Seat!
---
DAY 4
---
The Garden had gluten-free eggs benedict available!
The Unicorn Cafe at Sterling Castle had very few options for allergies. After asking 3 different people, we discovered that only one soup was gluten-free. They did have some pre-made sweets to purchase but a disappointing meal overall. I recommend bringing snacks if you are going to tour the amazing castle!
This restaurant was truly amazing. Almost everything is gluten-free or can be modified to be made gluten-free. The staff was kind and helpful and the food was impeccable! An absolute must if you're in St. Andrews, but a little pricey.
One Under Bar is such a great stop for drinks after a long day on the links or just walking around! They bring out some snacks to munch on with your drinks that are gluten-free!
Sightseeing:
We visited Stirling Castle and walked around St. Andrews.
---
DAY 5
---
Ate at Rusacks for breakfast and their gluten-free pancakes were amazing!
While the food was pretty good here, there is definitely a chance for cross contamination. The staff knew about allergies but it was clear that the kitchen was a bit inconsistent. Gluten-free bread and some gluten-free baked goods.
The food at The Adamson was delicious and their menu was clearly marked with allergens. The staff were very educated and knew what could and could not be modified! Amazing drinks and I loved the chicken dish!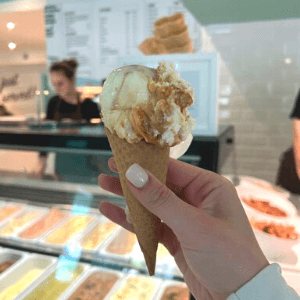 Gluten-free cones and very knowledgeable staff! There is a whole book of which flavors contain which allergens and the staff change their gloves when there is an allergy. The ice cream is delicious!
Sightseeing:
We spent some more time walking around St. Andrews!
---
DAY 6
---
They had a separate gluten-free menu with so many options. Delicious!
There were only two gluten-free options and one of them was a special. The staff knew about allergens but were unhelpful when I asked different questions about modifications.
Sightseeing:
We visited the Himalayas, drove up to the Highlands, and saw Aberfeldy Distillery!
---
DAY 7
---
There is definitely potential for cross contamination here but if you alert the staff about allergies they take it very seriously. They have gluten-free bread and different options and the food was delicious. Such a beautiful setting as well!
This adorable bed and breakfast also has pizza that we ordered takeout from! The crust was super thin and light and so delicious! Many different pizzas to choose from. A perfect meal after a long day of sightseeing!
Sightseeing:
We went on the Loch Ness tour, walked around Fort Augustus, and visited the Urquhart Castle!
---
DAY 8
---
Many gluten-free options and gluten-free fish and chips! The staff was very knowledgeable and made me feel very comfortable by answering all of my questions. Yummy food and a fun Scottish pub!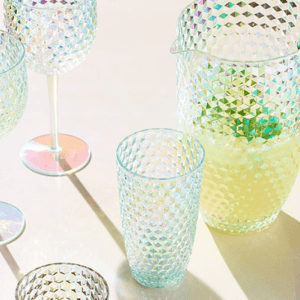 This grocery store was gluten-free heaven! They had such amazing gluten-free options, things you haven't ever seen in the U.S. I bought many items to bring back to the states with me because they were just so exciting. The staff was extremely helpful and knowledgeable. They even have pre-made gluten free sandwiches!
Sightseeing:
We visited Glencoe and the Three Sisters!
---
DAY 9
---
Sightseeing:
On our last day, we went on an Isle of Skye tour, saw Hairy coos, and the fairy pools!