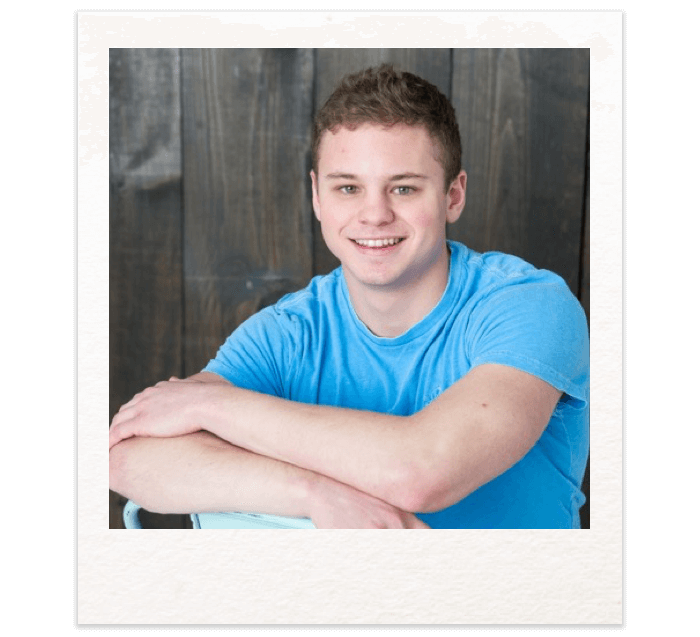 Can you set the stage for us?
I am food allergic to milk, tree nuts, fish and shellfish. I also have EoE, an inflammatory condition in my esophagus. I can eat 12 foods including wheat, asparagus, broccoli, soy, tomatoes, corn, pork, beef, eggs, watermelon, apples and rice and obtain nutrition from formula through a hole in my stomach. I used to be allergic to peanuts, egg and meat, but I outgrew them all. My older brother, Bryan, is allergic to tree nuts and outgrew his milk allergy at 10 and his egg allergy at 17.
Class act!
I'm an Economics and Theatre major at Northwestern. I noticed there wasn't a show at school that showcased all the different types of performance groups, and since students don't have a lot of money or time, it would be great to have a show with everything in one place. With over 250 performers, the show will be the largest in Northwestern's history. Given my personal experience, I wanted to donate the proceeds to a children's cause, and 100% of the proceeds are going to Lurie Children's Hospital.
We can't stop smiling.
A huge part of any health condition is the mental aspect. The debate at every doctor's appointment I had was quality of care versus quality of life, and I credit those doctors as the fundamental reason I am the way I am. Our organization SMILE (Students Making Inpatient Life Entertaining) will fund inpatient pediatric care and help make sure the kids have some entertainment.
It's showtime.
We will have a full musical cast, a 54 person classical orchestra, Indian and hip hop dance groups, magicians, a funk rock band and a cappella groups. The shows are April 5th and 6th, and tickets are $10 for Northwestern students and $30 for the public. I've reserved VIP seating for Spokin users, so email [email protected] before you buy tickets.
Your backflip in China is blowing our minds!
Having goals is enormously helpful. I literally write them down. I had a huge goal that I wanted to go to China, and part of that was to prove that having food allergies doesn't stop you from doing anything. While I knew I would face restrictions, my philosophy was that it's more about the experience than the food. Separately, I always wanted to learn how to do a backflip. My mom, who was a gymnast, taught me in one day. The trick is to get past the fear. Once you get over the fear, it's not a tremendously difficult skill.
Tell us about your supporting cast!
My mom is the co-founder of MOCHA, one of the first food allergy support groups, and my dad is the Chairman of FARE. They have undeniably been incredible role models for me. There is a big focus in our house on positivity. There are things you can control and things you can't control. You can't worry about the things you can't control. Worry about the things you can. Try the best to make do with what you have.
A round of applause!
While my parents could have focused all of their attention on me because of my EoE, they adopted a family view that included my brother, who over the years has had several suggestions. When Chipotle first came out, it was my brother who realized it would be safe for me.
The dress rehearsal.
When I was very young, my mom would have me practice reading labels. I'm a big advocate for trying to get your kids involved as soon as possible and giving your kids autonomy. Make sure your kids believe they control their destiny. It can seem like so much is out of your control, but the more a person feels that they can control things, like the labels they read and the food they can eat, the better.
How did you take a leading role?
I always felt in charge of my destiny because my parents taught me how to manage my food allergies and EoE at an early age. Getting to choose what I ate and being encouraged to explore interests like cooking made the challenges I faced seem less and less impactful in my daily life.
Speaking of cooking, the rumor is you're a top chef.
Even when I was more severely limited by what I could eat, I was encouraged to cook for myself in a way that made it interesting to learn. While I can eat only 12 foods, anyone would tell you I make some of the best meals in my house. I make a lot of bacon, bacon and egg sandwiches, and pasta with meat sauce, and I'm pretty solid at grilling pork chops and steak. There are some challenges, but you navigate them. It gets kind of fun after a while.
The upside of dating with food allergies and EoE?
I suggest activities that aren't food related, which I think is actually way more fun. I'm also fortunate that wheat is on the list of what I can have, which means I can drink beer since I'm 22. Specific to EoE, no one has ever cared about the hole in my stomach. When I explain it, most of the time the reaction is "wow, that's kind of cool."
Favorite hometown restaurant?
Real Urban Barbecue in Highland Park, IL. I always get a pound of pulled pork, and they have my order ready right when I walk in.
Best chain?
Chipotle. You can find clean ingredients there. I get the burrito with carnitas and rice. It's simple, but it's good.
Highlight hotel?
It was close to 10 years ago, but the Disney Resorts do a tremendous job of keeping people safe.
Bravo Daniel! We can't wait to see your encore!
---