DAY 1: AMSTERDAM
---
Love this hotel! Safely ate at breakfast buffet because chef made me separate food from the back. Great and central place to stay in Amsterdam.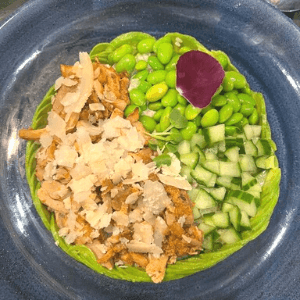 I love it here! An all-avocado restaurant. They were able to take sesame out of my dish!
A food hall with tons of different restaurants. Even though they are small kitchens, they are very accommodating and knowledgeable about what's in each food item.
Sightseeing:
We did the Heineken experience, went to the Moco Museum, and visited Vondel park!
---
DAY 2: AMSTERDAM
---
AMAZING pancakes! I recommend the honey apple bacon. The chocolate doesn't have nuts and they are very allergy-aware! Highly recommend.
AMAZING pasta place where they make pasta in the cheese wheel. Highly recommend!
Sightseeing:
We visited the Anne Frank House, went on a wine and cheese boat ride on the canal, visited the Amsterdam Tulip Museum and the cheese museum, and went shopping!
---
DAY 3: COPENHAGEN
---
LOVE this place! They are so accommodating and modified my dishes to eliminate sesame! Not only do they have amazing sushi, but the sticks are amazing! Even people with fish allergies can eat here. 10/10 recommend!
Sightseeing:
We visited Tivoli Gardens!
---
DAY 4: COPENHAGEN
---
Amazing brunch place! You pick 3 or 7 small items from a menu. The waitress outlined every item that had nuts or sesame and ways they can modify, if possible. Such a great brunch if you're in Copenhagen!
Fun pizza place!!!!
My favorite chai latte in the whole city! I never ate the pastries because they were all on top of eachother, but the coffee and tea were separate and amazing.
Amazing drinks on rooftop! They also had good appetizers. Very allergy-aware and happy to modify any dish.
Sightseeing:
We visited Nyhavn, the trampolines, and Christianborg Palace; went shopping, and saw the Round Tower!
---
DAY 5: COPENHAGEN
---
Breakfast: Grød
One of my favorite places in Copenhagen! It's make your own oatmeal. I love the caramel sauce and berries and apples! They do have nuts but will make your bowl in a clean area away from any allergens.
Yummm love this burger! The Shake Shack of Copenhagen. No seeds!
Sightseeing:
Saw the changing of the guards and the Rosenborg Castle and went on a canal tour!
---
DAY 6: LUND
---
My favorite breakfast. Most breakfast places are cafes with a ton of nuts and cross contamination, so was so happy to find this crepe restaurant with an accommodating kitchen! They made my crepes on a clean stove and eliminated any cross contamination.
Yummy pasta! The arogasta is amazing!
Sightseeing:
We visited the Lund Botanical Gardens!
---
DAY 7: LUND
---
They have a bunch of these all over Sweden and Denmark now. Amazing chai latte.
Had locations in both Malmo and Lund! Both had many restaurants I felt safe eating at. In Lund, the burgers had no seeds or nuts in the restaurant. In Malmo, I had great pasta. The pizza was also safe but there was a 40 minute wait. So many options here!
One of my favorite restaurants in Lund! The steak and shellfish pasta are both amazing. Such a great group dinner spot and allergy-aware!
Sightseeing:
We visited the Kulturen Museum!
---
DAY 8: LUND
---
Yummy sandwiches and salads! They will make your food separately and modify any item.
My last and favorite meal in Lund. Get the risotto; it's to die for! Such nice and knowledgable waitstaff.
Sightseeing:
We visited the Lund Cathedral and went on a walking tour of the city!
---
DAY 9: LUND
---
Amazing salad and sandwiches! I loved it here and they were willing to modify any sandwich or salad to accommodate me.
Very knowledgeable about every ingredient. Made my sushi without sesame in an area without cross contamination!
Sightseeing:
We walked around Lund University and visited the Science Center!