ARIZONA
---
Location: Phoenix, Arizona
"This is Arizona's original's steakhouse and as you can imagine, there are limited nuts—pecans on one salad and pecans on one fish entree. My peanut and tree nut-allergic daughter and nephew had no problem ordering something safe!"
@lbedwell, who manages peanut and tree nut allergies
Location: Tucson, Arizona
"This old steakhouse has a very limited menu and no nuts, but we talked to the waitress about the allergy because they serve Texas toast and just to be safe. The toast was safe for our daughter, but the chef chose only to salt and pepper her steak (no other seasonings as he didn't know if there could be possible cross-contamination). I was impressed at how forward-thinking they were. Great meal and a happy kiddo!"
@lbedwell, who manages peanut and tree nut allergies
Location: Prescott, Arizona
"First time dining here, but there is an allergy statement on the menu saying to discuss all concerns with the manager. It's a steakhouse and has very few nuts on the menu: pine nuts on one salad and they have a carrot cake on the dessert menu, which we were assured never comes into contact with normal food prep. Allergies were handled great!"
@lbedwell, who manages peanut and tree nut allergies
Location: Payson, Arizona
"We have dined here multiple times and never had any issues. They have limits nuts on the menu—only pecans on a salad. The waitstaff is always great at noting it and making my daughter feel safe."
@lbedwell, who manages peanut and tree nut allergies
CALIFORNIA
Location: Beverly Hills, California
"We ate at Mastro's for dinner. The staff was knowledgeable about items regarding our peanut allergy. None of the items we chose had peanuts. The steak was great along with our appetizer salads. Wonderful location in Beverly Hills."
@leslieevans, who manages peanut and tree nut allergies
Location: Claremont, California
"They have great steaks, veggies, sides, and super fun drinks! They also have no peanuts in the whole restaurant! They have hazelnuts, walnuts, and almonds that garnish some of the salads and cooked veggies, but according to waitstaff all the nuts go on very last in a separate part of the kitchen, so there is very little chance of cross contamination in the cooking process. I had the steak tenderloin with mixed greens which was delicious and safe! I also came here for Valentine's Day and had another great experience. The menu was definitely different so I was a little hesitant, but she confirmed they are still a peanut free restaurant because of guests with allergies!"
@emsnutfreeeats, who manages peanut and celiac-gluten allergies
Location: Beverly Hills, California
"This is by far probably the best steakhouse I have been to. Cut just received a Michelin Star for their amazing food. The server and chef made sure everything that the boys ate was free of all their allergens."
@dsarsour, who manages tree nut, seed, peach, and quinoa allergies
Location: San Francisco, California
"This steakhouse is delicious and I felt very safe. I got the New York steak, mashed potatoes, and veggies. The manager assured no nuts in the restaurant except for some peanut brittle that they give out in the lobby, which is from an outside facility and already packaged. So delicious!"
@alliecastro22, who manages peanut and tree nut allergies
Location: San Francisco, California
"Ate here for a work holiday party last night! The menu has very few nuts but lots of shellfish. The dinner meal was set for the company party with the first two courses having shellfish. I let the staff know that I was allergic and to just not bring me the courses, and instead they leapt into action! They politely let all of the staff in the room know, came up with new (safe) options for me, and discreetly let me know. They had a separate waiter deliver my food slightly before the others, so that my safe food was never being touched by anyone touching something not safe for me. I was extremely impressed and felt so welcome! I ended up eating: cheese tortellini (heavenly), caprese salad (wonderful), T-bone steak, and then there was an BEAUTIFUL 3-layer chocolate mousse for dessert that was nut-free! I am so impressed and was treated so well. Definitely high on my list!"
@samsafeeats, who manages peanut, tree nut, wheat, fruit, vegetable, basil, thyme, and vanilla allergies
Location: Newport Beach, California
"My server made me very comfortable ordering my food. He spoke to the chief and wrote down on my order my allergies. I ordered the prime cut ribeye with baked potato and all the sides separate from my meal."
@dodgerledezma, who manages peanut and tree nut allergies
Location: Palo Alto, California
"My son has a long list of allergies plus celiac. This place had things I could order for my son straight from the kids menu without a lot of modifications. They were very knowledgeable and accommodating, plus the food is fantastic!"
@syler, who manages peanut, tree nut, milk, egg, soy, fish, shellfish, wheat, celiac-gluten, sesame, and barley allergies
Location: San Francisco, California
"Quite possibly one of the best meals I've ever had in my life. House of Prime Rib is a San Francisco institution- for a reason. The prime rib is superb and the entire meal was excellent. Had no allergy problems with the salad, the English Cut, creamed spinach, Yorkshire pudding, and the baked potato!"
@samsafeeats, who manages peanut, tree nut, wheat, fruit, vegetable, basil, thyme, and vanilla allergies
Location: Fresno, California
"They are wonderful. They made sure everything that went into my children's mouth, including the amazing chocolate cake, was safe for them to eat. Deen has the cheeseburger and fries and Adam has the New York steak! Both were nut and sesame-free!"
@dsarsour, who manages tree nut, seed, peach, and quinoa allergies
COLORADO
Location: Denver, Colorado
"Very safe for nut and peanut sufferers. Waitstaff is incredible and they go above and beyond! Safe dessert options along with seafood steak, soup, and alcoholic beverages."
@vieve, who manages peanut and tree nut allergies
Location: Denver, Colorado
"We went for dinner on Saturday night and asked about the bread and meal for my daughter. The waiter was exceptional in knowing all ingredients present and then making sure all was also recorded. The smile on my daughter's face after eating 6 bread rolls, a steak, and French fries was priceless."
@therrickgraff, who manages peanut, tree nut, milk, egg, sesame, and seed allergies
Location: Denver, Colorado
"Favorite restaurant! Safe for nut and peanut allergies. Monkey bread is safe for nut and peanut sufferers along with the lobster mac n cheese, steak, fish, meatballs, and the sausage appetizer."
@vieve, who manages peanut and tree nut allergies
Location: Telluride, Colorado
"Allred's was amazing with our tree nut and peanut-allergic little one. They even have tree nut and peanut-free bread made in-house. I was so impressed and my little one was so excited to eat out!"
@meikoonken, who manages peanut and tree nut allergies
FLORIDA
Location: Naples, Florida
"Chops City Grill is a high-end steakhouse option, which also serves sushi and fish. The restaurant was voted best "steakhouse" in Lee and Collier County. While one of the pricier options in downtown Naples, the service, food, and atmosphere will not disappoint. The Ginger Pork Wontons can be made without the cashews, while the Spicy Beef cannot be made nut-free as it is made in a peanut sauce. Be sure to ask your waiter which items can be made nut-free, since this is not stated on the menu."
@aprilroberts44, who manages peanut, tree nut, and legume allergies
Location: Naples, Florida
"This place is absolutely fantastic. We always go here towards the end of our holiday as a special meal out. The steak is possibly the best I've ever had. Everything is done so well and the staff are brilliant. They never make me feel like my allergies are an issue and make me feel so safe."
@allergybubble, who manages peanut, tree nut, wheat, and celiac-gluten allergies
Location: Orlando, Florida
"The Boathouse is always wonderful with food allergies. Although they are not Disney owned, they follow a very similar protocol as Disney owned establishments. A manager will come out and assist with your order. I've ordered steak as well as the rotisserie chicken, both very delicious!"
@tpgordon, who manages peanut, tree nut, and milk allergies
Location: Tampa, Florida
"Their steak is grilled on a dedicated grill, and the chef is extremely accommodating and experienced with allergies. They're super friendly and professional about it, and you can talk to the chef if desired. Awesome experience all around."
@frances, who manages peanut, tree nut, milk, egg, and buckwheat allergies
Location: Orlando, Florida
"Just dined here for the first time last night and it was so delicious. I started out with the plant based onion rings served with a spicy "ranch" and then got the strip with roasted potatoes and chimichurri. Highly highly recommend!"
@tpgordon, who manages peanut, tree nut, and milk allergies
HAWAII
Location: Kailua, Hawaii
"Everything seemed fine here; their menu was fairly straightforward and products with nuts were shown on the menu. Most of the food there was steak and it was very good!"
@cmsparks, who manages peanut and tree nut allergies
ILLINOIS
Location: Chicago, Illinois
"Really delicious steak, lamb chops, and traditional steakhouse sides. Pretty touristy but a good dinner!"
@sheberhard, who manages peanut, tree nut, sesame, and seed allergies
Location: Chicago, Illinois
"We've had MANY meals here—breakfast, lunch and dinner. Their amazing food is matched by their absolute top notch service. Most servers have been there for years and they 100% take care of their food allergic guests. So many safe options from appetizers to desserts. I highly recommend!"
@susie, who manages peanut and tree nut allergies
Location: Chicago, Illinois
"Celebrated my graduation here because RPM restaurants are the best for managing allergies! I enjoyed the Parker House bread service, wedge salad, truffle risotto, and mushroom mac and cheese. The absolute best!"
@alyssabauder, who manages peanut, tree nut, fish, shellfish, and chickpea allergies
Location: Oakbrook, Illinois
"The staff is marvelous, patient, and kind. They offered us an allergy menu, but were incredibly knowledgeable about every buffet item, which desserts were made in house versus at a bakery, and were describing helping another table with multiple top 8 allergies plus sesame and beef. It's pricey, but the food is excellent, and it's nice for a special occasion with Santa."
@heidi, who manages a peanut allergy
Location: Chicago, Illinois
"The service here is exceptional. It's also a beautiful restaurant and located right along the Chicago river. We ate here on Christmas Eve and it was festive and felt like a special night out. My daughter safely had bread, steak, salad, fries and a lot of sides!"
@susie, who manages peanut and tree nut allergies
Location: Chicago, Illinois
"Great experience here for Valentine's Day! They waiter was really knowledgeable and ensured us that the kitchen would be notified. They had a clear allergy protocol that included special tickets on orders. Limited nuts, but lots of seafood. Definitely recommend —we even had a delicious and fancy dessert!"
@alyssabauder, who manages peanut, tree nut, fish, shellfish, and chickpea allergies
Location: Chicago, Illinois
"Really delicious steak, lamb chops, and traditional steakhouse sides. Pretty touristy but a good dinner!"
@sheberhard, who manages peanut, tree nut, sesame, and seed allergies
Location: Oakbrook, Illinois
"Great experience with Gibson's for a special birthday celebration. Dedicated fryer for French fries, joy for our 9 year old, and delish steaks cooked to perfection for this dairy, egg, peanut, and tree nut-allergic gal. For my gluten free needs, great awareness was shown with mashed potatoes. Given the weather the lack of usual ingredients, a substitute product was used: adding gluten to the mash. Server was not aware of the change for that day and upon both requests (I sent back the baked potato, was really craving the mash), the kitchen was on it and made the server aware of the change. Very proactive team and thrilled to see the safeguards are in place for any unexpected ingredient substitutions! A great go-to for special occasions!"
@kellyhummel, who manages peanut, tree nut, milk, and egg allergies
Location: Chicago, Illinois
"We've always loved going to Joe's for a special dinner, so it was a no-brainer when we wanted to order something special for my husband's birthday in quarantine. We were so thrilled to see bright pink labels on the bags listing my son's allergies when we picked up. We all ate more comfortably and enjoyed the king crab and steak and potatoes. So delicious!"
@sheberhard, who manages tree nut and seed allergies
Location: Chicago, Illinois
"YUM! Portions are huge here and you can't go wrong with the steak and mashed potatoes! Plenty of gluten-free and dairy-free options."
@paigeflory, who manages milk, wheat, and celiac-gluten allergies
Location: Chicago, Illinois
"My 14 year-old has peanut, tree nut, dairy, and shellfish allergies. They prepared filet mignon and french fries for her. Our waiter was really helpful and her food had allergy markers when it came out. They have separate grills for beef, chicken, and seafood. She doesn't get to eat out much so this was a nice treat."
@jblazer, who manages peanut, almond, milk, egg, soy, shellfish, wheat, sesame, sunflower, and chicken allergies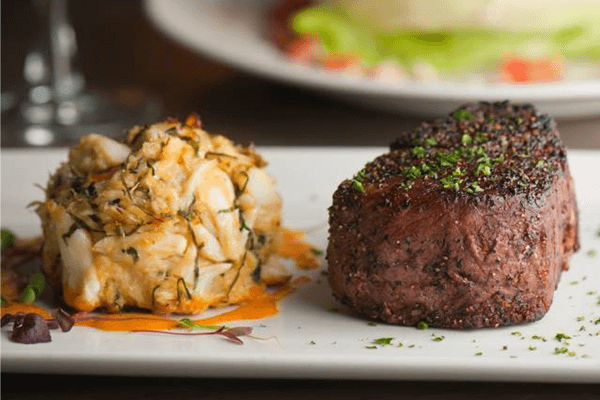 Location: Naperville, Illinois
"We called ahead and talked with the manager to see what they could make. They provided options for proteins and sides. When we arrived they had notes in the system and all staff was aware. The chef came to the table and verified with our son what he wanted. He then went and was the only one that touched the meal and he brought it to him at the table. Service was outstanding and it was great to have a place that had him place an order and have it be safe."
@kjr, who manages milk, and beef allergies
Location: Elmhurst, Illinois
"Friendly waitstaff that is very helpful in working with food allergies. Steak and ribs are the go to dishes for my son with egg, nut, and dairy allergies."
@leefriday, who manages peanut, tree nut, milk, and egg allergies
Location: Springfield, Illinois
"Classy steakhouse with attentive waitstaff. Gluten-free options."
@drsiri, who manages milk, cod, wheat, and yeast allergies
KANSAS
Location: Shawnee, Kansas
"This restaurant offers curbside family meals at a great value. I called ahead and was put on hold for the chef. They confirmed soy/canola blend and only nut item the moment is carrot cake. I felt good about the education and awareness and ordered online noting there that we have a peanut/tree nut allergy and asked they avoid cross contamination. I promptly received a call from the restaurant advising the house dressing is made in a factory that, while ingredients are of no concern, cross contamination/dedicated lines are not clearly stated. Then the employee explained their cooking protocol (glove use, single use) and dedicated prep areas for dessert, dressing and salad in detail. They were very educated and went well beyond what we are accustomed to."
@korinne, who manages peanut and tree nut allergies
MARYLAND
Location: Bethesda, Maryland
"Excellent management, chefs, and staff. Our son is anaphylactic to sesame and tree nuts. Only one item on the menu (ahi tuna) has sesame and it is in a dedicated area. They made sure all the pans and surfaces and utensils were clean and safe. He ate filet mignon and broccoli. We will definitely go back. Thanks!"
@alylippy, who manages tree nut and sesame allergies
MASSACHUSETTS
Location: Boston, Massachusetts
"The steak was DELICIOUS! Our server was great!"
@lanielou18, who manages a milk allergy
Location: Northampton, Massachusetts
"Delicious food, great ambiance, felt very safe eating here. Waiters were more than willing to check about ingredients and kitchen protocol!"
@elise, who manages peanut, hazelnut, and celiac-gluten allergies
Location: Boston, Massachusetts
"I had brunch at Davio's and the waitstaff was extremely knowledgeable about cross contamination. They had a dedicated area for gluten free items and a truly delicious menu!"
@emilybean, who manages milk, wheat, and celiac-gluten allergies
Location: Boston, Massachusetts
"Just dined here last night after not eating for over a year. It was as good as I remembered! They fry in canola oil but there is cross contamination in the fryer for dairy."
@tpgordon, who manages peanut, tree nut, and milk allergies
MICHIGAN
Location: Detroit, Michigan
"We had hanger steak, and my son had halibut. Expensive but it was safe. Long wait time for food. Let them know if you are going to a ball game. We made the mistake of not telling them and food didn't come out until 50 minutes after we sat down."
@alohabailey, who manages peanut, tree nut, milk, egg, and sesame allergies
Location: Ann Arbor, Michigan
"Tell your sever your allergies, and they will take them back to the chef, who can give you recommendations. Vegan options are marked on the menu and they are very good with preventing cross contamination. I get a filet mignon, spinach, and broccoli, and I have never had issues with eating there. They are very accommodating and the wait staff is very aware."
@ccwa2, who manages peanut, tree nut, milk, egg, fish, and shellfish allergies
Location: Detroit, Michigan
"I ate here for a company dinner and had the lake perch with shrimp and crabmeat for my main entree. I also shared the calamari as an appetizer and had the crab bisque. All were delicious. The waitress was helpful and spoke with the chef to ensure my order was free of eggs. The house made ice cream was also delicious and egg-free for dessert!"
@eblake, who manages egg and soy allergies
NEVADA
Location: Las Vegas, Nevada
"I had a great meal at the Top of the World! I enjoyed a lobster bisque, filet mignon, mashed potatoes, and asparagus. I explained my food allergies to the waitstaff, and they said they would be able to accommodate my food allergies. It was a tasty and safe meal!"
@passportmemoirs, who manages tree nut, celiac-gluten, and fruit allergies
Location: Las Vegas, Nevada
"This was our first time here and I cannot say enough good things about it. Our server, Brianne, was amazing and knew the ingredients in every dish. She told me there is gluten in only two menu items and dairy in three. Each course is prepped in its own space and each fryer is used for 1 item only. Allergy foods are tagged all the way through but she went to the kitchen to speak to them to make ensure they knew about my dishes. The food was phenomenal."
@knightvine, who manages milk, soy, wheat, celiac-gluten, fruit, grain, and legume allergies
NEW HAMPSHIRE
Location: Hanover, New Hampshire
"I had salmon prepared in parchment and steamed broccoli. My table overheard the waitress telling the chef about my allergies. This made me feel safe and the food was very tasty. While asking about the bread the waitress did believe that oats were nuts so take that as you will."
@scoutsb, who manages peanut, tree nut, soy, shellfish, fruit, and legume allergies
NEW JERSEY
Location: Ridgewood, New Jersey
"We have eaten here 5 times since September 2018. Each time our allergies (PN/TN/SS) were noted and the server went to the chef to alert him, and the server would come back to confirm there would be no cross contact with our allergens. We have ordered and eaten the burgers, fries, sweet potato side, cauliflower side, and even their famous bread without issue."
@tkcheung, who manages peanut, tree nut, and sesame allergies
Location: Closter, New Jersey
"I went to Sear House with a peanut allergy. The waitstaff was helpful in letting me know my food wouldn't contain nuts and that he would write it down. The food was delicious. The food was served quite fast but overall I'd come again."
@leslieevans, who manages a tree nut allergy
NEW YORK
Location: New York City, New York
"The entire restaurant is nut-free! I had the filet mignon and mashed potatoes and it was DELICIOUS! I wish they had this restaurant in San Francisco, I'd go all the time! Highly recommend. He said the only thing to avoid would be the ice cream because although it's nut-free, they get it from an outside supplier so he can't 100% guarantee there's no cross contamination."
@alliecastro22, who manages peanut and tree nut allergies
Location: Rye, New York
"This restaurant takes allergies very serious and provides awesome substitutes. Overall food is delicious!"
@blabella13, who manages peanut, tree nut, milk, fish, and shellfish allergies
Location: New York City, New York
"This place, like its sister in Paris, serves only salad, steak, and fries. Nothing else is in their kitchen, which can be rather refreshing. They do, however, cook their fries in peanut oil, so maybe avoid if you're allergic to peanuts. They use a highly refined oil that apparently many people who are peanut allergic do not react to! I had a long conversation with the manager after they opened in NYC because I'd been the the Paris location and loved it (the other location fries in another fat). This conversation actually had me considering eating here (and I have a severe peanut allergy) although ultimately I chose not to, but if you are less sensitive or are doing OIT might be worth a shot?"
@allergytravelr, who manages peanut, tree nut, milk, soy, shellfish, wheat, celiac-gluten, fruit, msg, xantham, and guar gums allergies
Location: White Plains, New York
"This is our go to special celebration dinner out spot. The staff and managers go beyond over the top to ensure that our allergy daughter is well taken care of and included. They make her a beautiful filet, potato, vegetables, and even a special safe dessert. We feel totally safe and comfortable every time we eat here!"
@allergymission, who manages peanut, tree nut, milk, egg, shellfish, and sesame allergies
Location: Melville, New York
"Food is SO DELICIOUS! the desserts were even nut-free which was super exciting!"
@brookeblumberg, who manages peanut and tree nut allergies.
NORTH CAROLINA
Location: Charlotte, North Carolina
"I eat here often and they are helpful and kind. Great salad and steaks!"
@2fortunes, who manages tree nut, shellfish, and banana allergies
OHIO
Location: Cleveland, Ohio
"We got the restaurant to ourselves which was nice. They are very knowledgeable about allergies and bread is made in house!"
@alohabailey, who manages peanut, tree nut, milk, egg, and sesame allergies
OKLAHOMA
Location: Stillwater, Oklahoma
"I went to dinner with my family and ordered the KC Strip. The menu is fairly simple and if you're looking for a good quality steak dinner, this is the place to go."
@dhodson500, who manages a peanut allergy
PENNSYLVANIA
Location: Ambler, Pennsylvania
"Best steak dinner close to home!"
@delaneybrody, who manages peanut, tree nut, and egg allergies.
Location: Philadelphia, Pennsylvania
"Amazing attention to my son's allergies. I noted his allergies when I booked, which the host proactively confirmed upon arrival. When seated, a manager handed our server with a post-it with his allergens on it. Our server even brought up cross-contamination in the fryer, which our guy is okay with. He enjoyed fries and steak and even dessert (sorbet)!"
@jackiengai, who manages tree nut, milk, and egg allergies.
SOUTH CAROLINA
Location: Columbia, South Carolina
"Our teen was in heaven with sautéed lemon chicken with burrata and tomatoes, mashed potatoes, and a side of broccoli rabe. She was also able to eat the parmesan truffle fries which came with my steak! Our waiter Amber was a fantastic example of Southern hospitality mixed with allergy training and the restaurant obviously had a clear protocol with handling allergies. At multiple points in ordering and during our meal, Amber explained how things were being handled (I.e., separate area in kitchen, that the rest of our meals would be handled separately so no cross contamination with our daughters, and confirming that seafood was prepared in a separate fryer and thus she could enjoy the fries.)"
@thatgirlmitch, who manages peanut, coconut, soy, shellfish, fruit, and legume allergies
TEXAS
Location: Austin, Texas
"This is a delicious steakhouse and they are very good with allergies. Unfortunately, they fry in peanut oil though so their signature pork chop bites are not safe. The slab bacon was safe for my allergy set and was an awesome addition to my filet and baked potatoes."
@tpgordon, who manages peanut, tree nut, and milk allergies
Location: Houston, Texas
"The waitstaff was great. They went out of their way to ensure that our son felt safe at every point of the meal. There were only two desserts that had nuts. Everything else was safe and delicious! I highly recommend the tres leches. Mario was our server and was fantastic. He even confessed to having researched whether coconut was a tree nut! Love it."
@sheberhard, who manages tree nut and seed allergies
UTAH
Location: Park City, Utah
"I had the Filet Mignon with garlic herb butter, mashed potatoes, and broccoli. This was my first time eating at a restaurant (other than my 1 safe spot) for the first time in 9 years! My first fine dining experience was divine and scrumptious! The wait staff knew of my allergy prior and the manager/owner even came to greet me to ensure I felt safe. Will be coming back!"
@lindseymroper, who manages peanut, tree nut, vegetable, and fruit allergies
WASHINGTON D.C.
Location: Washington, D.C.
"The waitstaff were educated in food allergies. I picked tri-tip steak, mac and cheese, and vegetables. The waitress notified the chief and asked if my choices were safe."
@dodgerledezma, who manages peanut and tree nut allergies
WISCONSIN
Location: Madison, Wisconsin
"An old school steak joint with martinis made for Frank + Dean."
@spokinann, who manages a bison allergy
BAHAMAS
Location: Paradise Island, Bahamas
"We went to this restaurant twice, my kids loved it. As a tip, it is first come first serve on their patio so if you get there early enough, you don't need a reservation. The chef was great and the kids loved their steak and mashed potatoes. My food-allergic kid had a plain burger (no bun) and steamed broccoli the first night. We had to send it back and ask them to redo it when it came out with a bun. They did so happily and with many apologies and made him a brand new dinner. On the second night, he had steak and steamed veggies."
@thedyercrew, who manages tree nut, milk, egg, and celiac-gluten allergies
CANADA
Location: British Columbia, Canada
"Always a great experience at The Keg. Helpful and careful server who asked questions and made sure everything was communicated to the kitchen."
@amcq, who manages peanut, tree nut, fish, shellfish, and fruit allergies
FRANCE
Location: Paris, France
"I was extremely pleased with how seriously they took allergies at this restaurant. I called up beforehand and reminded the waiter of my allergies and they allowed me to order something safe—a filet mignon and greens—and still found a way to create a beautiful and delicious plate. The experience of eating on the Eiffel Tower alone is so worth it!"
@gfnutfreemama, who manages a tree nut allergy
Location: Paris, France
"This place is awesome! It only serves salad and then steak and French fries, THAT'S IT! You are asked two questions upon sitting down: 1. steak temperature 2. sauce or no sauce. The fries are made in lard, which despite not being the most healthy choice, means they're absolutely delicious and allergy-free! In the US you can't cook fries in lard, so although this restaurant opened a place in NYC, it's not the same (and the fries at the NYC place are cooked in peanut oil)."
@allergytravelr, who manages peanut, tree nut, milk, soy, shellfish, wheat, celiac-gluten, fruit, msg, xantham, and guar gum allergies
ISRAEL
Location: Metula, Israel
"Hatachana is a steak restaurant in the northern part of Israel. They have excellent meat. Make sure to mention nut allergies and they will make sure to prepare a clean plate and get you all you need."
@nirshaulski, who manages a tree nut allergy
MEXICO
Location: Cancún, Mexico
"They were very accommodating! I got the kobe beef filet and they cooked it a la carte in front of me! Felt nervous due to the language barrier but they persisted and were helpful nonetheless."
@hzen, who manages tree nut and shellfish allergies
SPAIN
Location: Barcelona, Spain
"Amazing steakhouse in Barcelona. Great food. Great menu. Great waitstaff."
@bman, who manages peanut, tree nut, and shellfish allergies
ST. BARTS
Location: West Bay, St. Barts
"Our waiter was lovely and checked on all food for our daughter with a peanut allergy. She safely shared the gnocchi starter, kids chicken tenders and fries (better than the Ritz, she said!) and lemon sorbet for dessert. We never do dessert out, but he explained that they made all the sorbets in house and there was no worries of cross contamination. She loved it. Highly recommend."
@lynn, who manages a peanut allergy
UNITED KINGDOM
Location: London, United Kingdom
"This is one of my favorite restaurants! They have clear allergy labeling on the menu and the staff are very knowledgable. The steak is amazing!"
@allergybubble, who manages peanut, tree nut, wheat, and celiac-gluten allergies