DAY 1
---
I booked the three day trip from Cairo to Luxor through Marsa Alam Tours. My whole experience with them was great – they booked our flights, hotels, and had a car with a driver ready to go. Our tour guide was with us during the lunches of these tours and was able to reiterate my allergy to the restaurant staff which made me feel very comfortable. Our hotel even had an allergy policy sign to alert the staff if we had any of the top 8 allergies. They also were able to accommodate adding on tours and places we wanted to visit to our itinerary. They were very flexible and i would recommend to everyone who wants to visit Luxor to book their tours with Marsa Alam Tours!
A very large grocery store with a fresh vegetable and fruit section, a deli counter, meat and poultry selections, canned foods, and a frozen food section! I was very surprised at how large this store was and how many options they had.
This restaurant had a great rooftop view of the Nile River. I noticed some menu items had tree nuts and chose what looked to be the safest option: steamed rice with veggies and beef. The staff took my allergy card and assured me my meal was safe. We had some local beers and enjoyed the view.
Views over the Nile!
---
DAY 2
---
I only had a cup of fruit here but the food looked really good and the atmosphere was fun! I gave the staff my allergy translation card, even for just a cup of fruit, and they did seem a little nervous. I knew I'd be going home soon to make a safe meal so I was fine to wait. This restaurant features live music at night!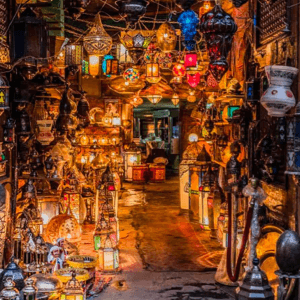 Famous bazaar in the historic center of Islamic Cairo. Fun day to walk around and shop!
---
DAY 3
---
This restaurant was so fun! They had a band playing live music for every party as you entered the restaurant. Again, this restaurant was chosen by our tour group and my tour guide was with us the entire time so I felt completely safe with everyone understanding my allergy. We had shareable plates and a beef and chicken dish. This was one of my favorite places we ate in Egypt!
The staff understood my allergy and were asking questions (it made me comfortable that they were even asking!). I had chicken shawarma and French fries. The chicken shawarma was wrapped in a flour tortilla with vegetables and it was delicious!
We did a full day tour of Giza Pyramids, Sphinx, Memphis, and Saqqara!
---
DAY 5
---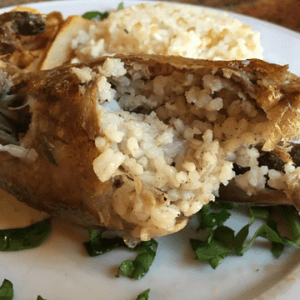 This restaurant was preselected based on the tour we chose, but the food was great. An added bonus was that our tour guide stayed with us at the restaurant. He spoke great English and was able to communicate my allergy to the staff, in addition to me having my allergy translation card. We had shareable plates as an appetizer, including baba ganoush and hummus. I also had soup and a chicken and rice dish. We booked this tour through Marsa Alam Tours and chose the 3-day trip from Cairo to Luxor.
There were two restaurants in this hotel, each with a sign with an "allergy policy" to alert staff of any of your allergies prior to sitting down (which was amazing to see)! The menu also had key notes for allergies within different food options, but I did notice some inconsistencies in the menus! I was still very impressed with the staff and this hotel.
Flights and hotels were included by booking through Marsaalam Tours
---
DAY 6
---
We had breakfast at the hotel buffet. They have informed staff, but I stuck to my known safe foods and had fruit.
This restaurant was preselected for us based on the tour we booked but it was great because the guide (who spoke great English) was able to communicate my allergy to the staff and kept making sure I was comfortable here. They had a buffet, which I told them I was not comfortable with, so they made me my own plate of chicken Tagine and pasta with tomato sauce.
I did notice some inconsistencies in the menu that called out certain allergies, but the staff was great and accommodating. They took my allergy card to the head chef and alerted the other staff of my allergy. I had a salad as an appetizer and a chicken and rice dish for dinner.
I had fresh guava juice!
Hot Air Balloon over The Valley of the Kings!!
---
DAY 7
---
Our guide brought us back to Nile Panorama for lunch. I'm not sure if they did that because of my allergy or if it was already planned, but we didn't mind because the food was great!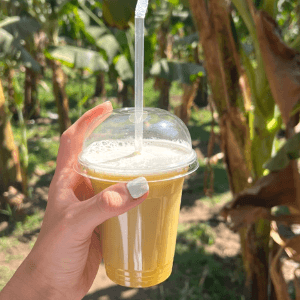 You need to take a boat on the Nile River to get here but it was worth it for the delicious fresh fruit. Egypt is known for their sugarcane and we had fresh sugarcane juice that was made right in front of us.
This hotel was gorgeous with a rooftop pool and great views of the city. There were many restaurant options within the hotel. Each one was able to accommodate my allergy and I always felt safe.
Sightseeing: Deir El Madina
---
DAY 8
---
We had brunch/ lunch here two days in a row. The staff understood my allergy and my translation card was helpful to have! I had salmon with cream cheese and arugula.
We had dinner here twice! The staff was super nice and accommodating. I had salmon over veggies and sweet potato for dinner one night. Great rooftop views!
Our hotel had a rooftop pool. We had done so much traveling and sightseeing we spent the last two days relaxing at the pool. We had a great view of the Cairo Tower and the Nile river.
---
DAY 9
---
We split a cold mezzeh platter which included tuna tartare and a selection of cold mezzeh: baba ganoush, hummus, labneh, tabouleh, warak enab, and fattoush.
We split sushi for dinner at The Roof Top.
Sightseeing: Pyramids of Giza
We went back to the Pyramids of Giza early in the morning for one last time.
---
DAY 10
---
The staff took my allergy translation card and assured me my order was safe. I felt comfortable eating here. This was my last meal before traveling back home and I don't eat airline food, so I ordered a big salad and plate of pasta with chicken!