Vegan + Gluten Free Gingerbread Cookie Decorating Kit – 12 Pack
A sugar cookie decorating party in a box! It includes everything you need to make delicious, pretty cookies.
$69 at Erin McKenna's Bakery, 20% off Gingerbread Cookie Kit with the code "KIT2020" through their site only, for use on Cyber Monday only.
Organic Candy Cane Lollipops
Candy cane pops with none of the junk! Tied into a box, they are the cutest gift topper too.
$6.99 at YumEarth
Vanilla Sugar Cookies
Spend more time watching Elf and less time baking with these vanilla cookies with festive sprinkles.
$14.99 at Partake Foods, Save 15% with code "SPOKIN15" on purchases of $29.99+. Orders over $29.99 (after discount) also receive free shipping.
Crumb Cake
Save yourself cleaning the kitchen with this crumb cake made in a peanut and tree nut free facility.
$14.99 at Liv Nut Free, 15% off with code "Spokin".
Personalized Elf on the
Shelf Cookies (6)
The only thing better than elf-themed cookies? Getting their names iced on them!
$40 at Mo'Pweeze Bakery, 10% off Elf cookies with the code "SPOKIN" through 12/20/20 on their site. 1 use per user, cannot be combined with other offers.
Vegan Chocolate Glazed Doughnut Dots
Because safe donuts are on everyone's wish list this year!
$5.99 at A + J Bakery, Buy 2 Get 1 Free with the code "SPOKIN2020".
Ginger Cookies Brown Sugar
Ship a box of pure joy: seasonal flavors of ice cream made in a nut-, egg- and sesame-free facility. Check out their new dairy-free options!
$79.99 for 6 pints at a la mode, Free pint of Ginger Cookie with any purchase of a 6-pint bundle with the code "SPKGIFT".
Bucket of Fudge
Who wouldn't be thrilled to receive a bucket of rich and creamy nut- and sesame-free fudge?
$20 at Trio Fudge, 25% off your entire cart until 11:59 PM 11/30/20 on their site. No code necessary.
Fig & Sea Salt Truffles
These luxe little sea salt fig truffles contain only 3 ingredients!
$9.99 at That's It, 10% off with code "spokint10" expiring 12/13/20 at the end of the day.
Cooking Class Membership
One of our favorite allergy-friendly chefs, Kendra, has launched new allergy-friendly Drizzle Kitchen memberships! It makes a great gift for yourself or someone looking to improve their cooking and includes members-only tutorial videos and recipes, a monthly group zoom cooking class, weekly emails and more.
$100 at Drizzle Kitchen, 20% off with the code "SPOKIN20". To send as a gift, sign up using the recipient's name and email address.
Choco No Nos Dreidel
Light the menorah and give these top 8-free candies in a colorful dreidel box.
$4.99 from No Whey, Free shipping on 11/30 only with code "cyber!", US only
Hanukkah Mesh Coins
Choose milk or dark chocolate and grab your dreidel!
$5.75 at Vermont Nut Free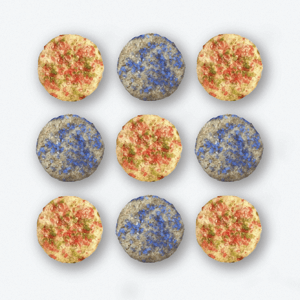 Holiday Bites (10-pack)
The perfect treat for sharing: holiday sugar cookie bites.
$13.60 at FOMO Baking Co., 20% off all orders on their site with the code "Spokin20".
Christmas Miniatures
This nut-free stocking stuffer is filled with tiny chocolate snowmen, Christmas trees and Santas.
$8.95 at Vermont Nut Free
Peppermint Bark Holiday Soft Baked Cookies
Don't miss these top 14-free seasonal peppermint chocolate cookies!
$4.29 at Enjoy Life
Safe Santa
The ultimate stocking stuffer: a top 8-free chocolate Santa and adorable chocolate presents.
$14.99 at No Whey, Free shipping on 11/30 only with code "cyber!", US only
Oatmeal Cranberry Cookies
Enjoy the smell and taste of warm, fresh-baked cookies without picking up a whisk!
$60 for 6 packs at Sweet Loren's, 15% off first time orders on their site with the code "Spokin15" and 10% off subsequent orders with the code "Spokin10".
Seedsonal Edition Bundle
Fuel their present wrapping and online shopping with a box of energy-filled bars in the warm flavors of the season.
$32.49 at 88 Acres, Save 25% off the bundle (normally $43) during their sale through the end of the day 11/30/20. All other items are discounted 20%.
Mint Chocolate Brownie Bites
These top 8-free, fudgy mint bites are a treat you can feel good about giving (and eating!)
$24.99 at Rule Breaker Snacks, 10% off all Rule Breaker bites on Amazon now through 12/1/20.
Vegan Raspberry Crumble
This top 10-allergen free crumble is perfect for brunch or dessert (or both!)
$30 at Allie's Gluten Free Goodies, Buy 1 Get the Second 50% off with code "Monday2020" until 11:59 pm 11/30/20.
Gourmet Popcorn Combo
This trio of gourmet flavored popcorns has salty AND sweet covered.
$14.95 at Baked Cravings, 15% off all new online orders with the code "cravings15" on their site.
Not So Plain Jane Sugar Cookie Mix
Give them a head start on making the perfect sugar cookies with this top 8-free mix.
$15 at The Pink Bakery, $8 flat rate shipping and free shipping on orders over $100, no code necessary.
Keto-Friendly Peppermint Chocolate Cookies
Buttery, crispy peppermint chocolate cookies that pair perfectly with a mug of hot cocoa.
$24.85 at Fancypants Baking Co., 20% off with code "20offCookies" on Amazon.
Dark Chocolate & Peppermint
Perfect for your wellness junkie: chocolate-covered quinoa crisps with a peppermint twist.
$31.92 at Undercover, 25% off all orders with the code "classified" on their site through 12/31/20.
Zolli Drops Peppermint
These minty little drops are even sweeter when you find out they are sugar-free and help protect teeth!
$9.89 at Zolli Candy, Get 20% off + free shipping when you build a box of 6 of your favorite Zolli Candy products. Expires 12/1/20 at 2:59 am, no code necessary.