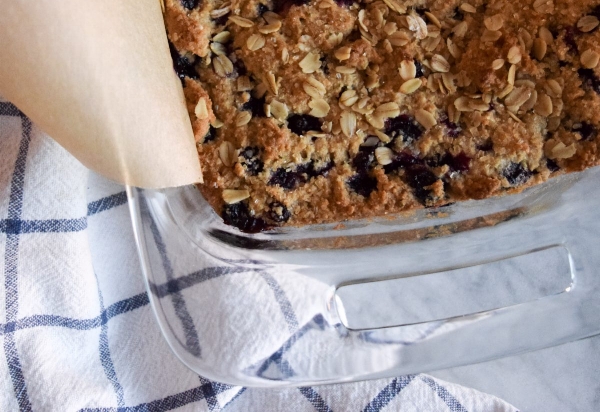 (Original recipe adapted from Drizzle Kitchen)
DIRECTIONS
Preheat oven to 350. Line an 8×8 square baking pan with parchment paper and set aside.
Add the softened butter, lemon zest and sugar to a medium bowl. With a hand mixer whip until fluffy and light in color, about 2 minutes.
Add the egg and vanilla and whip until mixed in.
In a small bowl mix together all but 2 tbs of the quinoa flour, the almond flour, tapioca starch, guar gum, baking powder, sea salt, cinnamon and hemp seeds.
Mix the blueberries with the remaining 2 tbs quinoa flour. Set aside.
Add the flour and yogurt, alternating, adding the flour in 3 parts and the yogurt in 2 (flour-yogurt-flour-yogurt-flour).
Fold in the blueberries and mix with a spoon until combined. Spread evenly in the pan and top with the topping sprinkle.
Bake at 350 for 35-40 minutes until golden brown and springy to the touch.
Cool half an hour and enjoy!
SERVES 6
PREP TIME: 20 minutes
TOTAL TIME: 1 hour
INGREDIENTS:
Makes one 8x8 pan
½ cup your favorite allergy friendly butter, softened*
zest from 1 lemon
¾ cup sugar
1 egg equivalent*
1 tsp vanilla
1 cup quinoa flour
½ cup Enjoy Life All-Purpose Flour
½ cup tapioca starch
1 tbs guar gum
2 tsp baking powder
1 tsp sea salt
1 tsp cinnamon
1/3 cup hemp seeds
2 cup blueberries, rinsed and patted dry
½ cup your favorite allergy friendly yogurt*

Topping Sprinkle

¼ cup turbinado sugar
¼ cup oats
2 tbs hemp seeds

 

*to make dairy free, substitute allergy friendly margarine and soy/coconut/almond/cashew yogurt

*to make egg free, substitute a flax egg