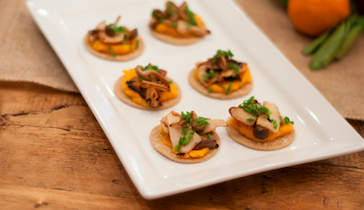 (Original recipe adapted from Drizzle Kitchen)
DIRECTIONS
Begin by making the tartlet dough. Add the baking flour, sugar, salt and xanthan gum to the bowl of a food processor and pulse to combine. Add the chilled shortening and pulse until mixture resembles small peas. Drizzle ice water into running processor until dough forms. Remove dough from the bowl and separate into 2 balls. Pat into a disk, wrap in plastic and chill for at least 2 hours. Save one disk for later use. Preheat oven to 375°.
Lightly dust a large surface and rolling pin with the All-Purpose Baking Flour. Remove one disk from the refrigerator and let it sit for 5-10 minutes until it softens just slightly. Gently roll out the dough, adding more flour as needed to prevent from sticking and roll dough until it is about ¼" thick.
Use a 3" round cookie cutter or ramekin to cut 16 circles. Place on a parchment lined baking sheet and lightly brush with olive oil and sprinkle with sea salt. Bake for 14-16 minutes until lightly golden brown.
Remove from oven and set to the side.
Make the mushroom topping by heating olive oil in a large pan over medium heat. Add the mushrooms and sauté for 6-7 minutes, tossing occasionally.
Add the shallots and sauté for another 3-4 minutes until the mushrooms are golden brown. Add the garlic, a pinch of salt and sauté another minute.
To assemble, spoon a tablespoon of the pumpkin or butternut squash puree on the tartlet crust, top with some of the mushrooms and garnish with chives.
 
MAKES 16 APPETIZERS
PREP TIME: 2 hours
TOTAL TIME: 2 hours 30 minutes
INGREDIENTS:
Tartlet Dough
2 ¼ cup Enjoy Life Foods All-Purpose Flour
1 tbs sugar
1 tsp salt
1 tsp xanthan gum
1 cup chilled butter flavored vegan shortening
1/3 cup ice water
Wild Mushroom Topping:

½ cup pumpkin puree or butternut squash puree
1 pound assorted, fresh wild mushrooms sliced.
2 shallots, finely diced
2 cloves garlic, finely diced
¼ cup minced fresh chive or parsley
2 tsp olive oil

 
*If you can't find fresh wild mushrooms, then purchase dried. Soak them in hot water for about 30 minutes until they are refreshed and then gently scoop them from the top of the liquid. Squeeze mushrooms dry and then proceed with recipe.